Minnesota Aluminum Gutters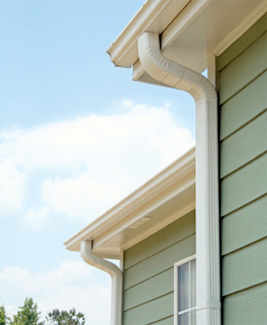 Aluminum has become a popular choice due to cost and the fact that is can be made from post-consumer and recycled material. It is not always the right choice for northern climates.
Advantages of Aluminum Gutters
Aluminum gutters are available in many different finishes and colors. They are relatively low cost, resist corrosion, and can last for 15 years or more if not damaged by ladders or storms. Warranties on coatings are common. They are available in a wide variety of colors.
Disadvantages of Aluminum Gutters
Aluminum expands twice as much as steel and 50 percent more than copper. In equal gauges aluminum is not as strong as steel or copper. In lighter thicknesses aluminum can be dented more easily than other gutter materials. They do not hold up against storm damage as well as stronger metals.
Aluminum gutters, downspouts, and gutter covers may be the right choice for your application and budget. To find out, call us today!