The Traditional Half-Round Gutter System—Simple Elegance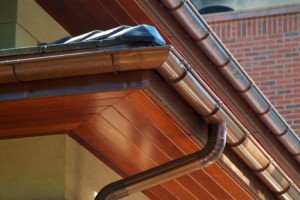 Half round gutters were commonly used prior to the 1960's. The clean simple lines of the half-round gutter tend to make it a pleasant compliment to more textured roofing materials like shakes, tiles and slate. It is for this reason that half-round gutters have remained the preferred style of choice for historic renovations and high-end custom homes. Half-round gutters are the most efficient gutter style and they are also least effected by ice and snow. Half-round gutters have often been made from copper. The high cost of both the copper material and the labor intensive installation of the past—soldering of each joint—has meant that half-round gutters were financially out of reach for most home owners.
Now much more affordable! The development and improvements in industrial roll-forming technology has now made it possible to form continuous, seamless half-round metal gutters at the job site. With this process, half-round gutters can now be formed from heavy gauge copper and also from heavy gauge aluminum in a wide variety of colors. Industrial roll-forming technology has made it possible for the elegant simple beauty of half-round gutter systems to be affordable by more homeowners for a wider variety of home applications. Half round gutters need to have an overall larger diameter equivalent that k-style gutters to move an equal volume of water.
Half-Round Gutters: Distinctive Touch for Today's Homes
Installation of half-round gutter systems is growing in popularity. The unique look that they provide is for the homeowner who wants a styling accent that is distinctive, simple, classic and elegant. Half-round gutters are now available in the same wide variety of colors that can be found in k-style gutters.
A Hidden Benefit of the Half-Round Gutter System!
Half-round gutter systems have one very interesting and seemingly hidden advantage over k-style gutters. Due to the shape of the half-round gutter all water drains completely out from the half-round gutter after every rainfall—unlike the k-style, where some water will always remain. For the homeowner this does means less frequent need for cleaning, but for the Minnesota homeowner it also means the elimination of one more breeding place for those pesky little mosquitoes!! Fewer mosquitoes near your home…wow…the dream of every Minnesota homeowner who loves backyard and patio entertaining!
Call us today. You will be glad you did. We look forward to meeting you.