The Popular K-Style Gutters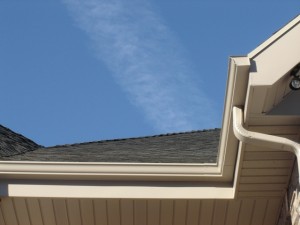 K-Style Gutters came into popularity in the 1960's with the advent of industrial metal fabrication and seamless gutter technology. K-style gutters now account for over 80% of the gutters installed today. K-style gutters have a crown molding appearance that gives a framed look to the roof and exterior walls of the home, providing a better fitted appearance for today's architectural trends.
Higher Water Volume Capacity
Given the same diameter equivalent, K-style gutters are able transport larger volumes of water compared to half-round gutters. And given the same sheet metal gauge, k-style gutters are firmer and less likely to bend than half round gutters.
Can Be Harder to Clean – Standing Water
As for disadvantages, K-style gutters are harder to clean than half round gutters—the corners provide a place for mud, leaves and tree blossoms to sediment and rot. Unlike half round gutters that empty completely after a rainfall, K-style gutters always retain some water after a rain. This means that k-style gutters become more susceptible to various types of corrosion- depending on the type of metal, and ultimately leaking.