Copper Gutters Minnesota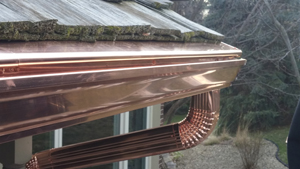 Copper does not rust or corrode. Seamless copper gutters eliminate the need that exists in older systems to re-solder leaking joints and transitions. If properly maintained, you can expect copper gutters to last at least 50+ years. Copper is the best quality metal that can be used—it is the most durable and the longest lasting material available for gutters. Copper does not require painting. As copper ages it develops a lovely patina. It is an extremely low maintenance product. Copper will never rust and is well suited for every environment.
Advantages of Copper Gutters
Metal roller technology has made it possible to have seamless copper gutters. Seamless copper gutters are more affordable than the older more labor intensive copper systems of the past. Seamless copper gutters do not require expensive upkeep like the older systems of the past. With proper maintenance, copper gutter systems can last over 50 years.
Disadvantages of Copper
Copper is initially more costly than steel or aluminum.
Copper gutters, downspouts, and gutter covers may be the right choice for your application and budget. To find out, call us today!