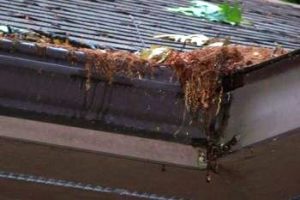 It is getting closer to many of our favorite times of year: autumn. Autumn brings cooler temperatures, football season, playoff baseball, hikes around the lake, and maybe even some apple pie in anticipation of the holidays. Fall also brings with it, lots of falling leaves from deciduous trees and countless needles are shed from coniferous trees. For homeowners with standard gutter systems, it can seem like 99.99 percent of those leaves and needles end up in their gutters. However, this does not need to be the case. Minnesota Leafless Gutters has many options for upgrades to both the quality, functionality and the overall curb appeal of your current gutter system.
Low Maintenance Gutter System
Autumn is undoubtedly a beautiful time of year in Minnesota, and there is even a great deal of beauty in the way our trees shed their leaves and needles. If you still rake leaves, you know it is hard work. If you also clean your own gutters, you know that there is virtually no other job quite like climbing up on a ladder and digging leaves, dirt and debris out of your gutters. With a gutter system installed by Minnesota Leafless Gutters, however, you can enjoy the spoils of the fall season without having to worry about what is clogging up your gutters.
Our leafless gutter systems are excellent guards against leaf and needle clogging, but they are also highly effective at protecting your home from other problems associated with subpar gutter systems. As pretty as autumn can be, it can also bring heavy rains, and a gutter system that is clogged with leaves and needles cannot guide rainwater away from your house as efficiently as they should. If the rain is heavy enough, and if your gutters are clogged with debris, that rainwater may work its way into your home, exactly where you do not want it to be.
New Gutter Installation
Autumn is, of course, followed by winter and Minnesota's homeowners have to worry about winter weather in ways that homeowners in warmer climates do not. Minnesota is prime territory for ice dams. When snow builds up on a home's roof, the warmth of the house can melt the underside layer of snow, which then refreezes overnight and expands in the process. The ice dam can then force its way under the roofline, doing damage in the process. A leafless gutter system is also an effective guard against ice dams. Call our team at (612) 221-0362 for more information.