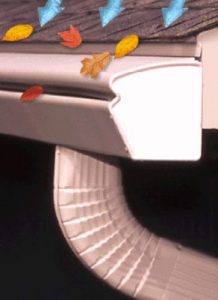 Having properly functioning rain gutters is a critical part of the home's drainage system. Gutters are designed to direct water away from the structure and prevent damage to the roof, foundation, windows, decks and landscaping. If your current gutters are showing signs of wear or you have noticed leaks, sagging, cracks or bent fasteners, its time to invest in a seamless gutter system that is engineered to provide lasting protection and beauty.
Minnesota Leafless Gutters custom fabricates and installs superior quality gutter systems for homes and businesses. Our seamless gutters come in a variety of durable materials. Each style provides numerous advantages over the flimsy install-it-yourself gutters found in home improvement stores. People just assume having professional customized to fit exactly to you home and only your home is too expensive of an option.
Durable Seamless Gutter System Materials
If you have been putting off installing a quality, long lasting gutter system to protect your property, why? Leafless gutters offer a clog-free solution. There are several different guttering styles, colors and materials available today. Leafless gutters made of durable Aluminum, Copper or Steel are best suited to adverse weather conditions in this part of the country. Minnesota Leafless Gutters does not recommend or install vinyl gutters because they are no match for a Minnesota winter.
More Sturdy Gutter System
Any seamless gutter option from Minnesota Leafless Gutters will provide you with excellent coverage for your residential or commercial property. The seamless nature of a contiguous gutter eliminates the problems with leaks where individual lengths of gutters come together. The result is a much more sturdy gutter system that is less prone to sag or gap. With that being said, there is a difference between the metal gutters that we custom fabricate to fit your structure.
Seamless Aluminum Gutters Advantages
• Wide variety of colors available
• Lower cost than galvanized steel or copper gutters
• Corrosion and rust resistant
• Low maintenance
• Warranty on coatings
• Gutter covers prevent clogs
Seamless Copper Gutters Advantages
• Beautiful patina over time
• Longer lifespan than other gutter materials
• Extremely low maintenance
• Rust proof
• Copper gutter cover covers provide clog-free option
Seamless Steel Gutters Advantages
• Holds more weight than aluminum gutters
• Wide variety of enamel colors to enhance any home
• Stainless steel or galvanized steel options
• Durable and dent resistant
• Matching gutter covers can be installed to keep leaves and debris out
Leafless Gutter Fabrication and Installation
Minnesota Leafless Gutters has a long history of providing customers with just the right type of gutters to add beauty, protection and functionality to any home or business. Our experts have been through enough snow, ice and rain events to know what to look for in durability and longevity in the harsh Minnesota climate. Choose aluminum, copper or steel for a flawless gutter system and Minnesota Leafless Gutters will custom fabricate and install them for maximum protection from water damage.
Find out what your home or commercial building has been missing. Call Minnesota Leafless Gutters to schedule a Free Gutter System Consultation and Estimate at: 612-221-0362.