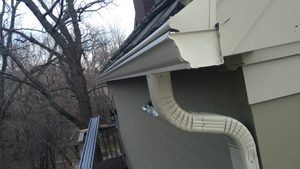 Every fall, gutters across St. Paul, MN become filled with leaves and debris. If not addressed, these leaves and debris can bring added pressure to your gutter system, which is not a good thing. The process of cleaning out gutters either costs you money or is a dangerous task that you try to take on by yourself. Either way, our team at Minnesota Leafless Gutters has a solution that will keep your gutters clear of leaves and debris each year. We are proud to offer affordable gutter guards that will make the fall season much more enjoyable for you as a homeowner.
Keeping Gutters Clean Year Around
There's no reason to pull out that wobbly ladder each year if you invest in our high-quality gutter guards. These gutter covers fit seamlessly to any style gutter so that there is no way for leaves and debris to enter your gutter system. Additionally, keeping your gutters clear of debris allows for the rainwater to run smoothly through the gutter and out through the down spout.
Custom Gutter Guard Systems
Just like the gutter systems that we install, our gutter guards are custom fit as well. There are other gutter guards that we have seen on homes around St. Paul, MN that don't fit well on the existing gutter. If that happens, there is not much to a gutter guard. By choosing our gutter experts to precisely install your custom gutter guards you'll be able to reap the benefits of your gutter guards every year. Gutter guards don't have to be ugly! We make our gutter guards available in a wide variety of colors so that they match your home perfectly.
Free Gutter Guard Estimates
Concerned about the cost of gutter guards and not sure they are in the budget? Well, there is no harm in requesting a free gutter guard estimate from our staff. Our team will come evaluate your existing gutter system and provide you with an affordable estimate that highlights all of the expected costs. Additionally, if you are having us replace your existing gutters with a new system, we can provide an estimate on how much the gutter guards would cost on your new gutter system. This is a no obligation estimate, so if you decide that you don't want to move forward with the project, that is ok.
Dealing with leaves and debris in your gutter system each year can be a thing of the past as long as you partner with our team at Minnesota Leafless Gutters and invest in our effective gutter guards. To request a free gutter guard estimate for your St. Paul, MN property, give us a call today at (612) 221-0362