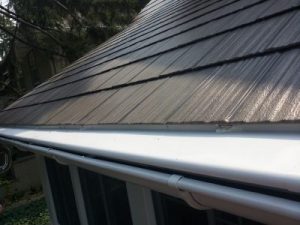 If we were being honest, we would say that most people don't enjoy buying gutters. Unless you are a home improvement guru, gutters don't typically excite you. So when we need to pick out gutters for a new build or need to replace your existing gutters, you don't really spend enough time looking. People will find some "too good to be true" (because it is) deal online and have someone install their gutters cheaply. Unfortunately, this almost never ends up working out. Why? Well, those gutters aren't doing their job! They are either breaking apart from poor quality and installation, or they just aren't getting the job done right. At Minnesota Leafless Gutters, we offer affordable gutter options that don't break the bank but also deliver quality productivity. Get the best of both worlds at Minnesota Leafless Gutters.
Our most popular choice, primarily due to its cost effectiveness, is the aluminum gutter. Made up from post-consumer and recycled material, these gutters give you a great bang for your buck! With proper maintenance, these gutters can last for over 15 years. We have a variety of finishes and colors for you to choose from so that your gutters will provide a nice accent to your home. While they are the most affordable option, they do have a tendency to expand and can be dented easier than other materials.
Steel gutters are stronger than aluminum and expand half as much. This is a popular choice for our northern atmosphere as it can bear the weight of snowy and icy conditions better than aluminum. We offer galvanized and enamel finishes and have a wide variety of colors. It also averages lasting around 15 years.
While obviously more expensive than aluminum or steel, our copper gutters may be the most affordable option of all. Copper does not rust like steel or expand and dent like aluminum. If it's properly maintained, copper gutters can last over 50 years. If you never had to replace your gutters, would it be too soon? Additionally, they require very little upkeep. While it's a little more costly, their longevity makes them an extremely affordable option long term.
Minnesota Leafless Gutters has over 17 years of experience assessing your homes and properties and helping you determine what gutter system is best for you. We are so confident in our work that we offer lifetime transferrable warranties for all of our labor and materials. For more information about the cities we serve, visit http://www.seamlessguttersmn.com/about/cities-we-service/. For more information about our services or to get a quote today, call us at 612-221-0362.