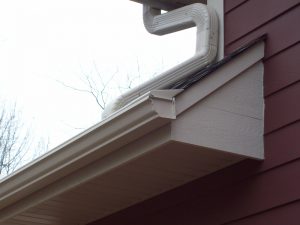 If you are looking to invest in a new gutter system for your home or you're in the process of building a new home, it's important to understand that all gutters are not created equal. For this reason, it is important that you do not fly through the gutter system decision process. If you are in the Minneapolis, MN area, the good news is that our team of gutter experts at Minnesota Leafless Gutters are here to help you choose the best gutters for your needs. What we can assure you is that by partnering with our staff, you'll be investing in custom fit seamless gutters designed and installed specifically for your property and only your property.
The unfortunate news is that there are quite a few gutter installation contractors around Minneapolis that focus more on the number of installation jobs that they perform than the actual quality of each installation. The truth, however, is that the installation job is equally as important as the gutters themselves. This is yet another reason why all gutters are not created equal. Going with an inferior gutter installation company can put the rest of your home in danger of water damage. If you're looking to maximize the life expectancy of your new gutter system, look no further than Minnesota Leafless Gutters as your seamless gutter installation team. We take our time with every gutter installation project that we take on because that is how important we believe a seamless fit is for the long-term performance of your new gutter system.
Impact of Gutter Materials
It makes sense that all gutters are not created equal because there are various gutter materials utilized by homeowners. While aluminum gutters may be the best option for your wallet, this type of gutter material simply doesn't last as long as our other gutter materials. Copper gutters on the other hand incorporate the best quality metal available for our clients. Additionally, our steel gutter option falls right in the middle when it comes to quality gutter materials. At Minnesota Leafless Gutters, we understand that deciding on the right gutter materials for your situation can be stressful. That's why we have gutter specialists on staff that can help you navigate this decision.
When deciding on which gutter system to go with for your new or existing home, it's very important to remember that all gutters are not created equal and neither are the gutter installation contractors. If you're in Minneapolis, MN, there's no better gutter installation team than our crew at Minnesota Leafless Gutters. To learn more about the various quality gutter systems that we have to offer, give us a call today at (612) 221-0362 or email mnleaflessgutters@gmail.com.