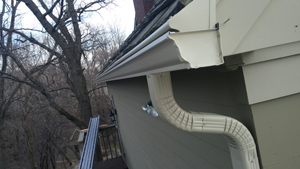 When it's time to start thinking about installing a new gutter system on your home, you probably haven't been sitting around thinking about the perfect material and color for your new gutters. In fact, you probably haven't thought about your gutters much at all beyond "I need gutters." At Minnesota Leafless Gutters, we're here to help you make the best gutter selection for your home, offering a wide variety of materials, shapes, and colors to meet every homeowner's home design needs. One of the most popularly used gutter materials in Minnesota is aluminum, a material that's much more durable than vinyl gutters and can outlast the Minnesota storms we see pass through every year. If you're in the market for new gutters, consider our seamless aluminum gutters, a low-maintenance gutter solution from our trusted Twin Cities, Minnesota gutter installation company.
Benefits of Aluminum Gutters
For Minnesota homeowners, durability is a consideration that needs to be taken into account when making outdoor building and remodeling decisions. If you're building a new home, remodeling, or even just replacing your gutters, it's important to consider the quality of your gutters if you want them to last for more than a few years. That's why we recommend aluminum gutters; they're a more durable gutter system than vinyl, which is prone to bending and breaking, which means that they're a longer-lasting gutter system solution. They're also a more affordable gutter material than others, such as copper or steel, which require a larger investment than aluminum gutters because they'll last longer. However, aluminum gutters will last for around 15 years, if properly maintained; the good news is that they require very little maintenance at all!
Low Maintenance Seamless Gutters and Aluminum Gutter Guards
Thanks to our seamless gutter systems, you can have leafless gutters all year without having to worry about leaves or debris getting caught on welded gutter seams. With seamless gutters, water and most debris flows freely through your gutter system, ensuring that your aluminum gutters aren't threatened by water damage cause by clogged gutters and debris buildups. To make your aluminum gutters even more impervious to water damage and leaf buildups, we offer gutter guards, the perfect solution to protect gutters from leaves and debris without blocking water flow. These gutter guards leave space enough only for water and the smallest debris, ensuring that the laves that fall onto your roof fall of it just as easily, your gutters won't be tempted to become clogged by large leaves, and you won't have to worry about leaking or rusting gutters. If you need new aluminum gutters, if you're looking for a long-lasting gutter system, and if you want low-maintenance gutters, then seamless aluminum gutters from Minnesota Leafless Gutters might right for you. Call us today at 612-221-0362 to begin your aluminum gutter installation, or send an email to mnleaflessgutters@gmail.com.