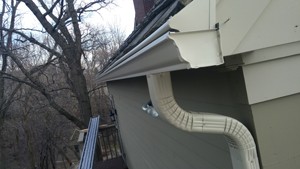 When choosing the best gutters for your home, you're probably not terribly interested in the task at hand, as gutters aren't usually topics of interest to most homeowners. However, living in Woodbury, Minnesota, your gutter choices can be extremely important because of the changing climates that can negatively affect your gutters. If you're in the market for aluminum gutters, look to Minnesota Leafless Gutters for a seamless gutter system that you can count on to be of the highest quality.
Aluminum gutters seem to be the most popular material used for gutters, perhaps because of their cost, and as long as you know what to look for in gutter and a gutter installation company, you can be sure that aluminum gutters will suit your home perfectly. Although many gutter installation businesses will try to sell you vinyl gutters because they're the cheapest option available, at Minnesota Leafless Gutters, we refuse to sell our customers vinyl gutters. In Minnesota, vinyl is extremely impractical because of the damage they inevitably sustain in harsh winters, so rather than leaving you to be disappointed when you vinyl gutters last only a few years, we simply don't sell them.
Because your home's value and your satisfaction are our main priorities, you can be sure that we won't try to sell you a product that doesn't work or isn't of the highest quality. Instead, our aluminum gutters will last you upwards of 15 years as long as you properly maintain them. We even make maintenance easy by offering gutter guards to protect your gutters from becoming full of leaves and debris. Our gutter guards will keep you from cleaning your gutters constantly or having to have them cleaned, ensuring that your gutters last as long as possible without damage from rust or leakage due to water and debris buildup.
Not only can you count on the seamless aluminum gutters you receive from us being of the highest quality, you can bet that they'll be functional and suit your home's design. Because our aluminum gutters are seamless, they require far less cleaning than gutters that are pieced together, and they can be much more attractive and natural-looking. With over 115 colors to choose from, your gutters can match your home and even look like crown molding affixed to your roof, adding to your home's character and aesthetic.
No matter your home's design, you can count on Minnesota Leafless Gutters to help you get gutters that look great on your home and will be more than just a functional necessity. Trust our team to make your Woodbury, Minnesota home look exactly the way you want it and help you cut down on the maintenance of your gutters by installing our seamless aluminum gutters in any color you'd like with matching gutter guards. To schedule an appointment, call us at 612-221-0362, or send an email to mnleaflessgutters@gmail.com.