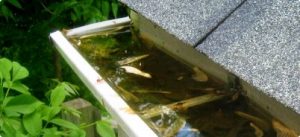 There are many reasons at the onset of every new season to appraise the condition of your home's gutters.  If winter is approaching, you will be facing the impending snow and ice that can build up in standard gutters and create ice dams and internal leaks.  During the warmer months, storms can create clogs of disgusting, decaying leaves and pine needles that can cause water to be forced under shingles and also into internal spaces.  Over time, standard gutters, such as those placed on homes by most builders, can sag and hang incorrectly, which can exacerbate problems further.
Why Install Leafless Gutters?
Minnesota Leafless Gutters, however, can replace your current gutters with a new gutter system that solves all of the problems caused by old, inefficient, and failing gutters.  Our leafless gutters will not clog with debris, so your investment eventually pays for itself, if for no other reason than that you will not have to pay to have someone clean them out multiple times a year.  Even better, you will not have to risk your life climbing up on a ladder to clear your gutters of debris yourself.
Minnesota Leafless Gutters is a company that provides professionally installed gutters, and we would be happy to talk with you about replacing your current gutter system with one that will do the job of protecting your home in the way it deserves to be protected.  Contractor-grade gutter systems can do a serviceable job for a while, but they typically do not have lasting value.  Gaps form, which allow debris to be pushed under shingles and allow moisture into internal spaces—exactly what gutters should not be doing.
Experienced Gutter Replacement, Apple Valley
Gutter replacement may not be the most exciting home repair.  But when you consider the damage that can occur with insufficient gutters, we believe that we can convince you of the great utility of our leafless gutter systems.  You may acknowledge the essential importance of gutters to the long-term welfare of your home, but you may not prioritize replacing them until a real problem occurs.  Our customers will validate our claims of the improvements made to their homes, and therefore to the long-term welfare of their largest investment.
Our team also works hard to install a reliable product that compliments the aesthetic value of your home.  But it is our commitment to superior customer service and professionalism that separates us from our competitors.  That combination helps our clients feel confident in our work and loyal to our company.  Give us a call at Minnesota Leafless Gutters at (612) 221-0362 to discuss options with you.