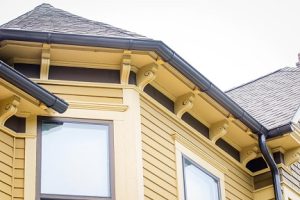 As of the latest estimate, Minnesota is home to over 14.7 billion trees! That means that over 17 million acres of the state is densely wooded! That amounts to a lot of falling leaves this season… leaves that inevitably will end up piling up inside many homeowners' gutters. Are your gutters at risk of clogging? All you may know at this point is that you have gutters, but perhaps they're not doing what they're designed to do. Perhaps they keep getting clogged, they are a bit unsightly, or just that there has to be a better solution. Enter gutter guards. Gutter guards are metal additions (or caps) that are installed on the top side of your existing gutters that aid in keeping leaves and debris out of your gutters, while still allowing water to freely flow in and through. There are many factors that go into the installation of gutter guards however: whether your existing gutters are suitable, whether there is a style of guard that matches the style of your existing system, what type of guard to choose, and even, perhaps, what is the most affordable option.
Durable Gutter Material
Gutter guards are made from aluminum that is designed to expand and contract with the variations just like your existing gutters. Options that include a mesh top are designed with stainless steel. This means that, with minimal proper maintenance, your gutter guards will last for decades!
Customizable Gutters For Your Home
Not all gutters are the same shape or same width. There are many different gutter styles on homes, and to closer match, gutter guards come in several different widths and of varying styles to match the look you are going for.
Lifetime Transferable Gutter Warranty
The team at Minnesota Leafless Gutters are so confident with their quality of workmanship and the durability of the materials they work with that they offer a lifetime transferable warranty on their gutter systems. This means that, so long as they install the gutter systems, even if you sell your house, the warranty will transfer over to the new owners and any work done will still be covered. How's that for standing behind their product?!
Free Gutter Inspection And Estimate
Afraid of heights? Tired of risking life and limb to climb ladders? No matter your reason, call Minnesota Leafless Gutters today to set up a free gutter inspection of your entire gutter system. A qualified team member will come to your home, inspect your gutters, and offer recommendations on the perfect gutter guard option for you.