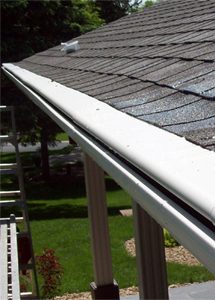 Seamless gutters have become the most popular type of gutter installed in Minnesota homes. Seamless gutters do not have a break in the gutter and pieces are placed together by connectors. This means that seamless gutters will not leak, and they will not get clogged by leaves and other debris. Minnesota Leafless Gutters installs a wide variety of seamless gutters for homes in the St. Paul, MN area. Our team can help determine the best gutter system for your home, one that will push the water away from your structure, protecting your home from water damage and one that will not detract from the aesthetic appeal of your property.
Benefits of Installing Seamless Gutters on Your Home
There are many important benefits of installing a seamless gutter system for your home. These benefits include:
● Reducing the possibility of leaks that can cause water damage to the exterior and/or interior of your home.
● Your gutter system will blend in beautifully with the exterior of your home, without the unsightly seams you see on some gutters.
● You can choose between many different colors and materials for your seamless gutters, complementing the outside of your home, rather than detracting from it. Minnesota Leafless Gutters offers more than 100 colors to choose from and different materials including copper, steel, and aluminum.
● Seamless gutters are fully customized to the dimensions of your home.
● You will never have to climb up on a ladder again to unclog your gutter system.
● When you partner with a gutter company like Minnesota Leafless Gutters, you will receive fair pricing and high-quality installation. We use the heaviest gauge sheet metal available and provide experienced and careful installation that meets the highest industry standards.
Experienced St. Paul Gutter Installation Company
Seamless Gutters add value to your home and offer protection that a traditional gutter system simply cannot. Minnesota Leafless Gutters has been serving the St. Paul area for more than 17 years and has an A+ rating from the Better Business Bureau. One thing that we offer that helps us stand out from the competition is a lifetime transferable warranty for all labor and materials. This means, you can pass along this warranty to new buyers if you decide to sell your home. We take pride in our work and in our treatment of our customers, and this is one way that we show it. For more information about our seamless gutter installation services, call us at 612-221-0362.