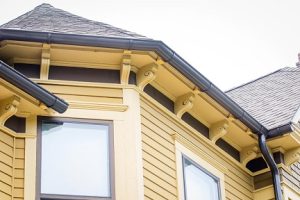 Are the leaves on your trees already starting to turn colors? Maybe some have already fallen and are even starting to pile up on your lawn. Every time a leaf falls off of a tree, it lands somewhere – and that somewhere is very often your roof and/or gutters. Over time, those leaves accumulate and get wet and before you know it, you have full or even clogged gutters. That's just part of what fall is like in Minnesota. What if you didn't have to think about those leaves and those gutters? What if when a storm came through, you did not have to worry about whether the water was able to move out of your gutters away from your home's foundation? Well, when you partner with the team at Minnesota Leafless Gutters, you can say goodbye to cleaning your gutters once and for all.
Seamless Gutter Systems For Minnesota Homes
Our gutter systems are seamless and prevent leaves from ever entering. So, that means that only water can pass through and can be pushed away from the roof, the siding and the foundation. Gutters are meant to protect your home and when they function the way they should, they will do just that. Our gutters are strong, can be installed to match your home and are less expensive than you might think. In fact, you can look at gutters as an investment. You may pay a bit up front, but you will save over time. No maintenance, protect your home from costly home damage and they can even enhance the look of your home. We offer copper rain gutters, aluminum rain gutters, steel rain gutters, gutter cover systems for existing systems, half-round type gutters and k-style gutter systems.
Experienced Gutter And Roofing Contractors In Minnesota
Our staff is knowledgeable and experienced and can provide you with specific guidance about which type of gutter system is best for your property and your budget. We always offer a free gutter inspection, fair pricing, and promise to complete our work on time and leave your property clean and beautiful. We are also a licensed and insured professional roofing contractor so we can also provide you with an assessment of any roofing issues you may have before the winter months. So, as those leaves come down this fall, make sure that your gutters are ready to do their job this year. If you have questions or concerns, contact the team at Minnesota Leafless Gutters at 612-221-0362.