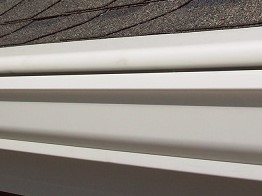 Now is a great time of year to think about getting your home ready for the cooler months. The outside of your home takes a real beating from the elements. Summer and fall bring significant rainfall, wind and storms that can damage your gutter system. If you have the original gutter system that was installed when your house was built, it is time for an upgrade. Minnesota Leafless Gutters can install a brand new leafless gutter system for your home now so that your home will be protected in the winter months. Here are some of the benefits to leafless gutters:
1. Maintenance free: You will not have to ever climb a ladder to clean out leaves and other debris again! Cleaning gutters is one of those jobs that you put off…and put off…until your gutters cannot possibly be working correctly. Seamless gutters have covers that do not allow anything but water inside, so your gutters will last for many years to come.
2. Prevent water problems around your home: The entire purpose of your gutter system to push water away from your home's foundation. But, when your gutters are clogged and are not working correctly it can cause problems for the foundation of your home, which can cost you a lot of money. A leafless gutter system will protect your home.
3. Improve the look of your home: When you invest in seamless gutters, you can actually improve the look of the exterior of your home. Seamless gutters come in over 100 different colors that can be matched exactly to your home. You can choose from aluminum, copper, steel, half-round gutters, K-style gutters. We can also add gutter covers to your existing gutters.
4. Affordable: Leafless gutters are affordable and an excellent investment in your home. They can protect your home from water damage, which will save you money and stress. Our gutter system will push water from the roof down and away from your foundation and will never get clogged.
Protect Your Home With Leafless Gutters
Minnesota Leafless Gutters has been serving the local area for more than seventeen years. We strive to provide the best possible customer service, highest quality work at the best price. Our business' success is based in large part on customer referrals, so we stand behind our work. We can also take a look at your roof and make any necessary repairs at the same time as gutter installation. If you want more information about the benefits of a seamless gutter system for your home, call us at 612-221-0362 for a free estimate.