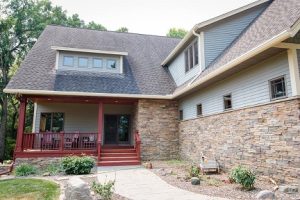 What are your least favorite home maintenance projects? Dusting those lights in your foyer? Raking leaves? Caulking your shower? Cleaning out a clogged drain? Or maybe cleaning out your gutters? Gutters always makes the list of jobs that homeowners dread and often neglect because of the difficulty involved. Well, if you still have your standard gutters on your home, it may be time to consider an upgrade to improve the overall look of your home and keep you from having to ever clean those gutters again. Let us install seamless leafless gutter on your home and never have to deal with your gutters ever again!
Protect Your Home From Water Damage With Seamless Gutters
Fall is a perfect time to have new gutters installed on your home. Your old gutter system may have worked fine for years, but each winter, you may be testing your luck. Standard gutter systems can get clogged easily and actually cause damage to the exterior of your home. Instead of pushing water away from your home and foundation, when gutters are clogged, that water is sometimes pushed toward your home and can create water damage that can be costly to repair. In the winter months, if your gutters are clogged and then freeze, you can develop an ice dam on your roof that can cause roof damage as well.
Minnesota Leafless Gutters specializes in seamless gutter installation for homeowners in the St. Paul area. Our team brings experience, knowledge, expertise and excellent customer service to each job we take on. There are many benefits to installing seamless gutters on your home. In addition to dramatically reducing the amount of maintenance required, seamless gutters can be customized to your home so that they work well and add visual appeal to your home. A new gutter system also increases the value of your home and prevents any future gutter problems. A new seamless gutter system will ensure that water is funneled exactly where you want it and never where you don't. Finally, seamless gutters do not let in the dirt, leaves and debris that standard gutters do and they do not have those unsightly seams that also can separate and let water out.
Gutter Installation Company in St. Paul, MN
Minnesota Leafless Gutters would be happy to help you replace your existing gutters and install a brand-new gutter system that you can truly forget about for many years to come! For more information about our gutter systems, or to get a free estimate, give us a call at 612-221-0362.