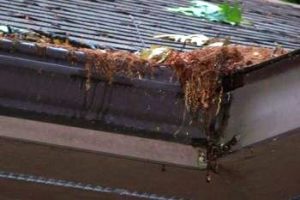 Are you in need of new gutters? If so, you probably are trying to find the best gutter company available in the Blaine area. If you search online, you would likely come up with a large number of companies offering gutter installation services, so how can you know who to choose? At Minnesota Leafless Gutters, we've put together an easy to use guide that will allow you to choose the best Blaine gutter company for your next gutter installation or gutter repair project. Just do not try and install gutters yourself. Most people feel if they do it themselves they will save money…not true.
What to Look for in a Gutter Company
Below are just a few key characteristics you should look for when choosing a reputable gutter company.
Years of Experience – Ask each gutter company you interview how long they've been in business. While we don't have anything against new companies, if you're working with a company with several decades of experience in the industry, you'll typically have a better overall experience.
Ease of Communication – Does the company you're interviewing answer your emails and phone calls? Do they call you back promptly? If the answer is 'no' to any of these questions, this could mean that the company will be difficult to work with once your project begins. How a company responds before the job begins is often indicative of how they'll behave once a contract is signed.
High Quality Materials – Depending on the style of your home, you may be interested in any number of gutter materials. Be sure the company you work with has access, and experience working with all types of gutters. At Minnesota Leafless Gutters, we've installed copper, aluminum, and steel gutters many times over the several decades we've been in business.
Access to Gutter Cover Systems – Do you hate cleaning your gutters as much as we do? If so, investing in a gutter cover system can be a great way to reduce the amount of time you spend cleaning your gutters. Getting up on your roof can be extremely dangerous, which is why we often recommend gutter cover systems for our customers.
Best Blaine Gutter Company
If you're looking for top notch customer service, high quality materials and decades of experience, you really should give Minnesota Leafless Gutters a call today. We've been serving the Blaine area for decades and would be more than willing to come to your home to provide you with a free, no obligation estimate for new gutters. We can be reached by phone at 612-221-0362 or through our online contact form. We look forward to hearing from you soon.