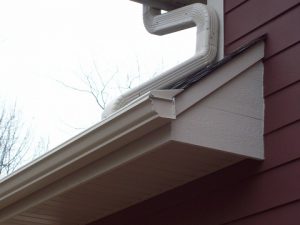 At Minnesota Leafless Gutters, we commonly get asked, "What are the best gutter sizes for our home?" This question isn't as easy to answer as you may think, simply because our houses come in different shapes and sizes. What our dedicated gutter installers can confirm for you is that we will make sure that a new gutter system from Minnesota Leafless Gutters will fit seamlessly to your St. Paul, Minnesota home.
Common Gutter Sizes: There are definitely a few gutter sizes that are most frequently utilized. More than likely, the best gutter sizes for your home are either 5-inch or 6-inch gutters. The downspouts are usually 2 x 3 inches or 3 x 4 inches in size. By putting your trust in our staff at Minnesota Leafless Gutters, we'll come evaluate your property and determine which size gutters are the perfect fit for your home. That way you don't have to worry about making this decision.
Choosing Shape: Another question that needs to be answered when choosing your new gutter system is what gutter shape to go with. At Minnesota Leafless Gutters, we offer our clients the following options:
● Traditional Half-Round Gutter System – For historic housing and high-end homes, the traditional half-round gutter system is often utilized. They are highly efficient and work extremely well with ice and snow, which is common in St. Paul. The unique feature of this option is that all water drains completely out of these gutters after each rainfall.
● K-Style Gutter System – More than 80% of gutters installed today are K-style gutters. Many homeowners love the look and fit of these gutters. K-style gutters can transport larger volumes of water, when compared to half-round gutters. This style rarely bends and is extremely firm. They are, however, more difficult to clean because they do not fully drain after a rainfall.
As you can see, choosing the best gutter size and shape for your home is something that you may need some help with. Serving St. Paul, Minnesota, our team at Minnesota Leafless Gutters is here to help you with this decision. We'll walk you through our many gutter styles, materials and shapes. From there, we will install your new gutter system seamlessly to your home. To request a free gutter replacement estimate for your St. Paul, MN home, contact our gutter experts today at (612) 221-0362 or email mnleaflessgutters@gmail.com.