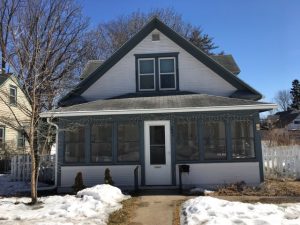 The weather in the state of Minnesota is nothing less than harsh. We have bitterly cold winters with snow, ice and wind in the forecast for much of the winter. Even the summers in Minnesota can be difficult with wide temperature fluctuations, severe thunderstorms, rain and wind. The exterior of your St. Paul home takes quite a beating all twelve months of the year. Your gutter system is critically important in protecting your home from all that Mother Nature throws your way. Minnesota Leafless Gutters can help you find the best possible gutters to install on your home in Minnesota. Whether you need to replace old gutters or install gutters on your home for the first time, our team can assess and solve all water problems on your property and prevent any future issues from developing.
How Your Gutter System Protects Your Home
Your gutters perform a very important function. They push water away from the structure and foundation of your home, to prevent water damage and pooling that can cause significant problems on your property. We offer a wide range of gutter options and colors (over 110 colors to choose from) to perfectly match your home's exterior and offer the protection that you need. We customize gutter systems to fit your home so that you can be confident that unwanted water and debris is directed away from your home. Our leafless gutter system requires very little maintenance and does not ever get clogged with leaves or other debris.
In addition to our highly popular seamless gutter systems, we also offer aluminum and copper rain gutters, steel rain gutters, gutter cover systems, half-round style gutters, and K-style gutters. This gives you a wide range of choices for your home. We can help you make the best decision for your home and for your budget. All of our gutter systems are surprisingly affordable and will function well in the Minnesota climate for many years to come.
Gutter Installation Company in St. Paul, MN
Minnesota Leafless Gutters understands what it takes for gutters to withstand the brutal Minnesota weather. Our gutter installation team is professional, prompt, courteous and does not consider a job complete unless your yard looks clean and beautiful. As a local business, we have served St. Paul for more than 17 years and are one of the few local companies to offer a lifetime transferable warranty for both labor and materials. We pay attention to the needs of our customers and stand behind our work. This has made us the most trusted gutter company in the area. For more information about the best gutters to install on your St Paul Minnesota home, call Minnesota Leafless Gutters at (612) 221-0362.