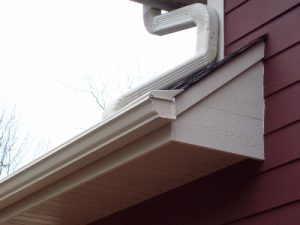 At Minnesota Leafless Gutters, we are proud to call ourselves the best seamless gutter installer in Minnesota. If you are looking for more practical, functional gutters that are installed quickly and efficiently and a perfect match to your house, Minnesota Leafless Gutters has everything you need.
Trusting Your Installer
Gutter installation is something that many claim to do, but not many can say they devote their entire company to it. At Minnesota Leafless Gutters, gutter installation is our specialty and something we handle on a daily basis. If you are looking for a seamless gutter installer, hiring someone you can trust to do the job right is essential. For 17 years, our experts have been installing quality seamless gutter systems for clients all over Minnesota. We take every job and interaction with customers seriously and install gutter systems the correct way every single time. With knowledgeable staff and expert installers, Minnesota Leafless Gutters can tell you which gutters are most ideal for your property.
Three Types of Gutter Materials
Our seamless gutter systems are offered with three different materials. While there are advantages to each one, it's important that our experts come out to your home and evaluate what may work best for you. We offer aluminum, steel and copper seamless gutter systems that aid in keeping your home happy and healthy. We only offer these three options as we want your gutters to last its proper lifespan. With cold temperatures in Minnesota, other materials like vinyl would just be a waste of time and money.
Two Types of Gutter Styles
As seamless gutter installers, we offer the two most common types of gutter styles today, the half-round gutters and the K-style gutters. Half-round gutters look good with more textured roofing materials like shakes and tiles. This is why they are most commonly found on older, most historic homes. They provide a unique look to the home while still serving its functional purpose. K-style gutters are the most popular seamless gutter systems that can typically handle a higher water volume capacity and seem less likely to bend.
No matter what type of seamless gutter system you choose, our seamless gutter installers can install it with ease. We are so confident in our work that we offer a lifetime transferable warranty for all of our labor and materials. For all of your seamless gutter installation needs, Minnesota Leafless Gutters has you covered. For more information or to get a free estimate, give us a call today at 612-221-0362 or email mnleaflessgutters@gmail.com.