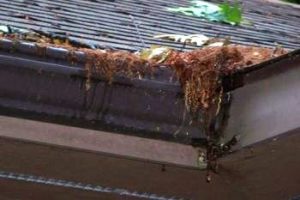 As the summer weather ramps up, it is the perfect time to have Minnesota Leafless Gutters finally put on the gutter covers you've been wanting. Every fall and spring, gutters get clogged up with nasty debris and then bogged down with wetness and mold. It's time to stop getting out that rusty, old ladder and risking your life just to clean the gutters. The best possible solution for all of your gutter problems is to buy our gutter covers here at Minnesota Leafless Gutters.
The Purpose Of Gutter Covers
Gutter covers are extremely effective in keeping your gutters clear. Having clear gutters that are free of trash and debris will let the water collected from precipitation run down the gutter and into the downspout smoothly and efficiently. No more clogging, no more breakdowns, no more getting up on that ladder to clean out your gutters! Our gutter covers work seamlessly with both our own seamless gutter system or existing gutters already set in place.
Installing Gutter Covers
Currently, there are various types of gutter cover systems on the market. Gutter guards, gutter toppers, gutter screens, gutter filters, etc. They all do the same thing. At Minnesota Leafless Gutters, our gutter covers are customized and guaranteed for your gutter system. Everything we install is done with meticulous effort so that the end result is more than satisfying. If you own a home or building, protecting your gutters with a gutter cover can prevent water damage and unsafe gutter cleaning practices in the future. Our gutter cover systems will flawlessly match your existing system. We have gutter covers available in every color to ensure that you are getting the perfect set. With over 17 years of experience in the gutter game, Minnesota Leafless Gutters is the perfect choice for your property. We are so confident in our installation and products that we offer a limited transferable warranty for all labor and materials.
When you are paying for a service, we believe that everyone deserves to have a positive experience from start to finish. At Minnesota Leafless Gutters, we create the type of customer service that leaves people wanting more. It is our privilege to serve you and our community with quality gutter covers that help protect your home and keep you safe and off the ladder every fall and spring. For more information about Minnesota Leafless Gutters and our gutter cover installation and services, give us a call today. Contact us today at (612) 221-0362 or email mnleaflessgutters@gmail.com.