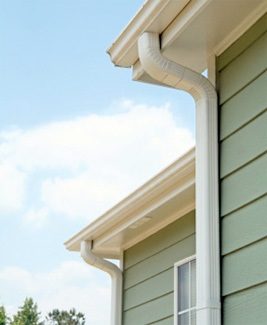 Minnesota Leafless Gutters has worked hard to establish a reputation for unsurpassed customer service. We have also worked hard to establish our company as the best installers of gutter systems in St. Paul, Minnesota, and we have set ourselves apart from our competition with a combination of qualities that appeal to many homeowners.
Importance of a Good Gutter System
The importance of residential gutter systems is often overlooked and understandably so. Gutter systems should have a low profile while doing their jobs to protect your house from the damage that can be done by heavy rainfall and the build-up of snow and ice. But having a low profile should not mean that they are ignored.
If you have noticed wet spots in your yard or moisture getting into your attic, crawl spaces, or other parts of your home, you may have an issue with your current gutter system. A properly installed gutter system by Minnesota Leafless Gutters can provide protection to your home from all kinds of weather and can save you thousands of dollars in repairs down the road. When you work with our team at Minnesota Leafless Gutters, you are making an investment in the long-term durability of your house. In addition, you will be partnering with a team of professionals who take pride in maintaining our reputation as the best gutter installation company in Minnesota.
Your home is probably your biggest investment. A properly installed gutter system is an important way to protect that investment. We understand the importance of this investment and that is why we emphasize the combination of professional expertise, excellent customer service and affordability. It is a combination that communicates the importance we place on ensuring that your biggest investment is always protected.
Professional Gutter Installation Services, St. Paul
Once we have established trust with our customers, we then provide options. We offer a wide variety of gutter styles—including K-style and half-round gutters—in a variety of colors to complement the exterior of your home. We also offer a range of options of materials to match and complement the architecture of your home. One option we absolutely do not provide is mediocrity. Working with Minnesota Leafless Gutters means that you have only one option, and that is excellence in service and installation. If you have questions or would like a quote, call us at (612) 221-0362. We can help you solve any water problems you have and prevent future problems from occurring.