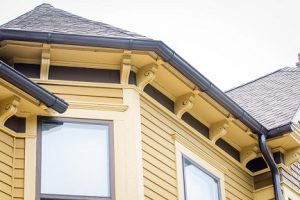 Whether you are building a home or have just purchased a home that is many years old, one thing to consider is your gutter system. It may not be as exciting or fun as choosing new kitchen countertops or paint color, but in the long run, an efficient and effective gutter system can protect your home from water damage, which can save you significant time and money. A high-quality gutter system may not stand out to you or your neighbors, but, believe us, you will be glad that you have it down the road. Minnesota Leafless Gutters understands that gutters may not be the most exciting exterior feature of your home – but we are committed to helping our customers choose gutters that will do their job, not detract from the look of your home, and keep water away from your roof, siding and foundation.
Benefits Of A Leafless Gutter System
Minnesota Leafless Gutters offer a wide variety of gutters that are a significant upgrade from the standard gutters that are traditionally installed on a newly built home. We offer aluminum gutters, copper gutters, steel gutters, K-style gutters, half-round gutters and gutter covers. Here are just a few reasons to consider a leafless gutter system:
1. Low maintenance: One of the most convenient and important benefits about our leafless gutter systems is that you do not EVER have to worry about climbing a ladder to clean them. Your gutters will not collect leaves and debris, so you will not have to worry about them getting clogged and not letting the water flow correctly.
2. Protect your home from water damage: Water damage can be extremely problematic for your home. The primary function of your gutters is to push water away from the roof, siding and foundation to prevent water damage over time. Investing in your gutters is a great way to protect your home.
3. Customized options with a full range of colors and finishes: You do not have to sacrifice the look that you want for your home. When you partner with us, you will have many options when it comes to your gutter system. We can help you find the perfect match for your home.
4. Extend the life of your gutters and siding: Clogged gutters can cause many different problems for your home – water backing up on your roof can cause an ice dam and eventually leak, just for one example. Leafless gutters work all year long and will help keep your roof and siding looking and performing its best.
For more information about our gutter options for your home, call us at 612-221-0362.