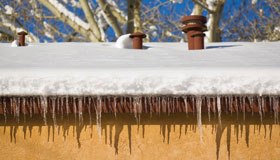 A rainstorm can exert around 1,000 pounds of pressure on a roof, and gutters displace nearly 600 pounds of pressure. As such, gutters keep rainwater from hitting at full force. They cannot work effectively if twigs, dirt, and leaves clog gutters. They need to be kept clean and maintained three to four times annually.
Allowing twigs, leaves, and dirt to accumulate may cause your gutter to rust out or develop a hole. Without treating these holes as they appear, gutters may need to be replaced within five years. An aluminum gutter (a popular choice for home gutters), when properly cared for, can last up to twenty years.
Gutter Clogs Are Not DIY-Fixable
Clogs can cause hidden damage, requiring professional repairs, but because you may have to use a ladder to reach a clog safely, clearing a clog can be risky. Consider calling a professional before a fall from a ladder sends you to the emergency room. Professionals have special equipment to clear clogs, such as special ladder extensions or a bucket lift that allows them to reach a roof gutter. The level of difficulty in clearing a clog will depend on roof pitch and shape. Generally, a standard ladder can reach first or second-story gutters. Single-story ranch homes may be easier for professionals to reach and clean because they are low-pitched. Cape-cod style homes may present the most challenges because their even eaves make the area more difficult to clean. They also tend to have steeper pitched roofs.
Calling The Local Professionals
It goes without saying that do-it-yourself repairs can be dangerous when it involves ladders and slippery roofs. A professional can easily repair warped guttering and perform cleaning on clogged guttering on a regular basis. It is best to have a professional check and recommend needed repairs to leaking sections or replacement of old gutters before clogs occur. It is better to be proactive, and it may save many homeowners from expensive home repairs in the future. The cost of hiring a company to handle clogs and gutter repair far outweighs the consequences of having a leaky roof or failed gutter systems.
Maintaining the gutter system for your MN home is a top priority, and our team at Minnesota Leafless Gutters has many services offered. Give us a call today at (612) 221-0362 or email mnleaflessgutters@gmail.com.