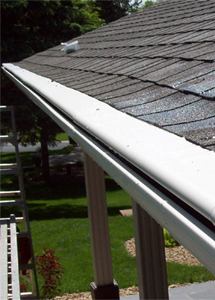 Have you given thought to the gutter system on your property? A Quality Seamless Gutter System does its job effectively in the background. They require little maintenance but perform a crucial function protecting your commercial investment. Minnesota Leafless Gutters is a locally owned and operated business that believes in quality. We custom fabricate and expertly install Seamless Gutters and Downspouts that provide excellent moisture protection for any commercial application.
Gutter's Vital Function in Protecting Buildings
Gutters protect so much more than the surrounding landscaping. They provide a vital function in the protection of the structural integrity of a building. Overly saturated ground around the foundation can lead to water seepage into the basement, mold issues and thousands of dollars in damages.
Consider Property Characteristics for Gutter Installation
A quality seamless gutter system from Minnesota Leafless Gutters provides unparalleled protection from the damaging effects of water intrusion. Commercial buildings have unique aspects that must be considered when choosing the best materials and installation for each project. Experts look at Property Characteristics including:
Size and pitch of the roof
Property layout
Parking lot and driveway location
Landscaping
Aesthetics
Climate conditions
Commercial Applications for Seamless Gutters
Commercial locations are susceptible to water damage. At Minnesota Leafless Gutters, we take into account every aspect of the property when installing Quality Seamless Gutter Systems for Commercial Applications including:
Apartment Buildings
Condos and Multifamily Units
Schools
Restaurants
Medical Facilities
Parking Ramps
Hotels and Motels
Industrial Sites
Shopping Malls
And More…
Faulty Gutters can be a Big Problem
Having faulty or missing gutters can spell big trouble for commercial buildings or residential properties. Common problems associated with poorly performing gutter systems may include:
Wood rot around doors and windows
Basement flooding
Mold problems
Poor indoor air quality
Damaged exterior or interior paint
Moisture problems in walls, floors or ceilings
Damage to landscaping
Structural damage at the foundation level
Decreased rental values
MN Gutter Installation Professional
Minnesota Leafless Gutters is the company to call for unparalleled Quality and Service. We custom fabricate and install Quality Seamless Gutter Systems that protect commercial buildings from harsh Minneapolis, MN climate. You can choose from a large selection of materials, designs and colors to blend seamlessly with your building's aesthetics. As experienced professionals we pay close attention to the unique characteristics of a property and install the best gutters for each Commercial Application.
We offer a Lifetime Transferrable Warranty for Labor and Materials!
Commercial Property Owners in Minneapolis, MN can reach us at: 612-221-0362 or Tim@mnleaflessgutters.com . Call or Email Today for a Free Estimate.