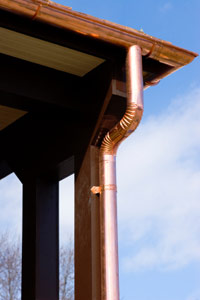 Tired of costly home repairs every…single…year? It's time to get gutters that can last even longer than you! It's time to let Minnesota Leafless Gutters take care of all of your gutter needs! If you live in the Minneapolis, Minnesota area, you are accustomed to harsh weather conditions and constant climate changes. Weather can deteriorate the outside of a home in a matter of months. Going with steel and aluminum gutters can lead to empty pockets and a lot of frustration! It's time to go with a product that lasts, Copper Gutters! Copper gutters are the best and longest lasting product on the market today!
Advantages to Copper Gutters, Downspouts, and Gutter Covers
Copper gutters do not rust or corrode.
They eliminate the need to re-solder leaking joints and transitions.
It is the best quality metal that can be used.
It does not require painting.
It is an extremely low maintenance product.
It is well suited for every environment, rain or shine!
Seamless copper gutters have recently become more affordable than the older, more labor intensive copper systems from the past.
With proper maintenance, copper gutter systems have been known to last at least 50 years.
Last but not least, Copper gutters, downspouts, and gutter covers add to the beauty of a home! As copper ages, it develops a lovely patina color that adds to the value and desired look of a home. Copper gutter installation is a true art!
While copper gutters are initially more expensive than steel or aluminum, the maintenance and durability prices make copper gutters a better buy over time. Don't waste time on constantly fixing your gutters, downspouts, and gutter covers, let us apply copper to your home once and for all!
Call us today at (612)221-0362 or fill out our online contact form. As a licensed and insured company, you can trust us to deliver the best quality product at the most affordable price! We offer free estimates for all of your gutter needs! If you live in the Minneapolis area, Minnesota Leafless Gutters is the only place to call for all of your gutter needs!