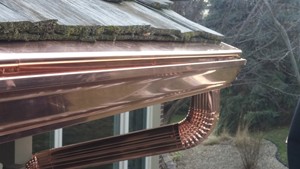 The summer months are known for highways construction, restaurant building, and home remodeling, and with the inconsistent Minnesota weather, it's not hard to see why we all wait until the summer time to begin our improvement projects. If you're building or remodeling your Highland Park, MN home, there may be a few things you're overlooking, including a typically overlooked and yet imperative additive to your home: a gutter system. At Minnesota Leafless Gutters, we want to make sure that you not only remember to make your gutters a priority but that you make them an integral part of your home's aesthetic design. With our seamless copper gutters, you can do just that.
Copper Gutters
Our copper gutters offer a distinctive alternative to the gutters you see every day and might have grown accustomed to expect on a home. You've likely seen steel gutters on at least a few homes, and aluminum gutters make up a large majority of gutter systems used, but copper gutters are rarely seen. When you're remodeling or building your home, it's difficult to make it completely your own – to remove the influences of other home designs or create a home that your neighbors will find as unique as you do. With copper gutters, though, your home will stand apart from the rest.
Local Copper Gutter Company
When you decide to search out a local copper gutter company to buy copper gutters, think of us at Minnesota Leafless Gutters, where you can be sure that you'll be getting the highest quality gutter system available. While aluminum and steel gutters are initially less expensive than copper gutters, because of rust damage and corrosion, they last only about 15 years, and that's if they're well-kept year after year. With copper gutters, though, you can bet on your gutter system lasting upwards of 50 years with very little maintenance. Copper gutters will not rust or corrode, and the only sign of weathering they show is a patina look, which does not degrade the integrity of the gutters in any way and adds even more personality to your home as it ages.
Seamless Copper Gutter System
If you make the decision to add a seamless copper gutter system to your brand new or remodeled Highland Park home, our team at Minnesota Leafless Gutters wants to help. With more than 17 years of experience installing our seamless gutter systems, we know the dos and don'ts of gutters, and the services we provide are unparalleled. Using the heaviest gauged sheet metal of copper and all of our materials, we're so certain that a new copper gutter system from us will more than meet your expectations that we offer a lifetime warranty on our materials and our labor. For copper gutters what you can count on being completely satisfied with, call Minnesota Leafless Gutters at 612-221-0362, or email us at mnleaflessgutters@gmail.com