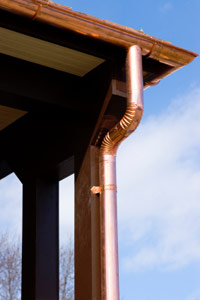 Home is where the heart is. It reflects your style and it encapsulates your life, your family, and your memories. Choosing gutters for your home may not be at the top of your priority list. However, you certainly want to choose the best materials for your home. As you will find, copper gutters are the most exquisite and the most durable material available for gutters. As Minnesotans, we have the opportunity to experience the most extreme of weather conditions. Fortunately, copper gutters can withstand the harshest weather while providing elegance and value for our homes. At Minnesota Leafless Gutters, we can customize the installation of beautiful copper gutters that will make your home stand apart from your neighbors!
Unique Elements of Copper Gutters
Color: Copper gutters provide a high end look for your home that differs from the traditional aluminum gutter. Copper is the strongest of metals and will patina with age. As it is exposed to weather, the color of the copper will transition from its shiny original to shades of brown, eventually resulting in a green hue.
Aesthetics: Copper gutters will truly increase the curb appeal of your home. Whether you're looking to sell and impress potential buyers or simply maintaining the integrity of your magnificent home, copper gutters will satisfy the most discriminate of tastes.
Cost: Without question, copper gutters are the most desirable gutter system. However, this doesn't come without a cost. You can expect to pay 3-5 times as much for your copper gutters. Copper requires a little extra TLC during installation. The accessories and fasteners of your system will also need to be copper. However, incurring the extra upfront cost is well worth it in the long run!
High Quality: You can expect your copper gutters to last upwards of 30 years. If you are in your "forever home", there is no denying the choice for these low maintenance, highly durable gutters. Copper will never rust and is suited for every environment!
Why Choose Minnesota Leafless Gutters?
Minnesota Leafless Gutters is a licensed and insured professional roofing contractor. We pride ourselves on our happy and satisfied customers. Let us come to your home for your free consultation. We will discuss with you, in person, how our beautiful copper gutters can turn your home into an exquisite, elegant house that makes passersby turn their heads! If you live in Minnesota, call the professionals at (612) 221-0362!