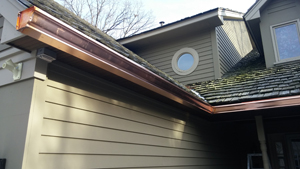 As the summer months set in, home remodeling and improvement projects are well underway as residents in Woodbury, Minnesota have begun making changes to keep their homes looking and feeling like new. After you've made your home additions, added new siding, repaved the driveway, or re-shingled your roof, Minnesota Leafless Gutters can help you add the finishing touch to your good-as-new home with our copper seamless gutter systems.
Although gutters may be one of the last items you check off your remodeling list, they have the ability to accent your home and make it even more unique. With our varied styles and materials, our team can transform your gutters into an integral part of your home's aesthetic rather than just another home necessity. Our copper gutters in particular are perhaps our most unique seamless gutter system available; used far less frequently than steel or aluminum gutter systems, our copper gutters will help your home stand out.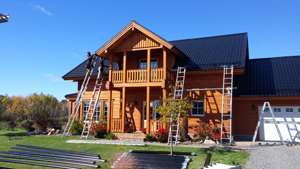 With copper gutters, you can be sure that your home will look and stay well-kept, as our copper seamless gutters are the best and most effective gutter system available. In terms of longevity, look, and efficiency, these copper gutter systems beat out even our own aluminum and steel gutter systems every time. Because copper does not rust or corrode like steel and aluminum, you can count on a long-lasting seamless gutter system that far exceeds the lifespan of your average gutters. If properly maintained, copper gutters have the potential to last upwards of 50 years, and the maintenance required is minimal.
Copper Gutter Systems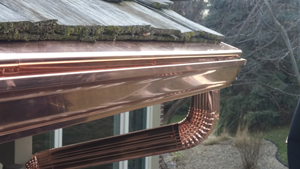 Even without painting, copper gutters maintain a beautiful color, and when they begin to alter because of weather exposure, they take on a patina look that adds character to any home, and this change will not degrade the structural integrity of the gutters as rust would do to other materials. Although copper gutters are initially more expensive than other options available, ultimately, they are the most cost efficient option because of their longevity. While aluminum and steel gutters last only about 15 years if properly maintained, copper gutter systems can last far longer with very little upkeep necessary.
Copper Gutter Installer
If you're looking to have new gutter systems installed at your home, look to Minnesota Leafless Gutters for a professional and reliable service with more than 17 years of experience. We use the heaviest gauged sheet metal available of copper and all of our materials, and we offer a lifetime warranty on our materials and our labor to make sure that you are completely satisfied with the seamless gutter systems we install. With personal attention to detail and your needs, our owner oversees all projects, so if you're looking for new gutters for your Woodbury, Minnesota home, count on our services to provide you with the best gutter system installation around. If you're interested in our services or want to learn more about the benefits of copper seamless gutters, call us at 612-221-0362, or send an email at mnleaflessgutters@gmail.com.