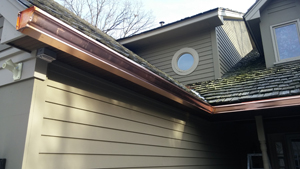 Have you ever pondered the distinctions between copper and aluminum gutters? Both materials provide great protection for your house from elements like rain or snowfall, but each has their own pros and cons. We'll explain them all so you can decide which option is best suited to your needs.
Aluminum gutters are the most widely used rain gutter material. Not only do they offer reliable protection, but they're much cheaper than copper gutters – making them a great option if price is an important factor. In addition, the enamel coating on aluminum gutters protects them from rust and allows them to be painted different colors; plus, they're lightweight and easier to install than their copper counterparts.
Aluminum gutters also have their downsides. Aluminum gutters rust faster than copper ones, especially if the enamel layer is not maintained. Furthermore, aluminum gutters are susceptible to high temperatures and sudden temperature changes that require repair; hence, their lifespan isn't as long as that of copper gutters.
Copper Gutters
Copper gutters add an elegant and decorative touch to your home, unlike aluminum gutters which tend to blend in. Copper gutters boast an eye-catching finish that will enhance the beauty and style of your residence. Copper gutters are less susceptible to rust than aluminum ones and don't crack or wear as quickly. With proper upkeep, copper gutters can last for up to 50 years!
Copper gutters do have some disadvantages, the main one being price. Copper gutters cost half as much as aluminum gutters and require copper fittings, fasteners, nails, and fasteners to install; copper must be the primary material since aluminum can corrode it. An all-copper system would only increase its overall cost due to this.
Copper gutter systems should be tailored specifically for each house, eliminating seams which reduces the risk of future leaks. Unfortunately, copper installation is more challenging than aluminum due to its need for soldering joints; hence, you'll need experience working with copper. A copper system might not be your best bet if you need your gutter system built or replaced quickly – aluminum systems are much simpler to manage.
Gutter Installation In St. Paul, MN
Minnesota Leafless Gutters would be happy to help you repair your existing gutters or install a brand-new gutter system that you can truly forget about for many years to come! For more information about our gutter systems, or to get a free estimate, give us a call at (612) 221-0362.