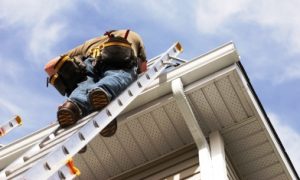 At Minnesota Leafless Gutters, we believe in happy and satisfied customers. We believe that our customers deserve the best service, products and installation from beginning to end. That is precisely why we pride ourselves in customizing our gutter systems to your wants and needs. For over 17 years, we have been successfully installing custom gutters in the Woodbury, Minnesota area. With personal attention to detail and quality installation, Minnesota Leafless Gutters is always the right choice. If you are searching for custom gutter systems near Woodbury, Minnesota, Minnesota Leafless Gutters has got you covered.
Gutter Styles
Before we ever propose a product or gutter style to our customers, we always recommend a free estimate from our professionals and an open opportunity to ask as many questions as you'd like. In Woodbury, Minnesota, you have a choice in the gutter system you choose. Most commonly, Minnesota residents are deciding between Half-Round or K-Style gutters. Once you know the style, then sizes, materials and finishes all begin to come into play. At Minnesota Leafless Gutters, we want to know your wants and needs, so that we can customize your gutter system exactly the way you like it. A free estimate from Minnesota Leafless Gutters opens the door for any and all questions and answers about your custom gutters in Woodbury, Minnesota.
Customizing Gutters To Fit Your Home
If you've ever searched for gutters, then it's quite apparent that getting highly manufactured gutters will not yield you an aesthetic result and may not even be properly functional. Finding the right style, appropriate size and perfect color is exactly why custom gutters from Minnesota Leafless Gutters makes sense. We offer a multitude of materials from aluminum and steel to even copper. Selecting gutters that fit your style and your budget allows for a perfect finish! Custom gutters not only allow for a variance of choices but a seamless installation. Quality installation by our professionals ensures that it is both aesthetically pleasing as well as highly functional.
It's time that you discovered the quality of both our products and services at Minnesota Leafless Gutters. If you have been searching for custom gutters near you in Woodbury, Minnesota, call us and get a free estimate today. Save your time, your energy and your money and call our professionals here at Minnesota Leafless Gutters. For more information about our custom gutter services in Woodbury, Minnesota, contact us today at (612) 221-0362 or email mnleaflessgutters@gmail.com.