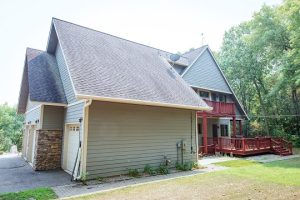 If you have recently replaced the roof on your home, or had any work done to fix or prevent roof leaks, it may be a good time to also upgrade your gutters. This is especially important if there is any chance that your roof's leaking problem was caused by problematic gutters. Minnesota Leafless Gutters offers a number of affordable and high-quality gutter systems to replace standard grade gutters often installed by builders and gutters that have been damaged.
Seamless gutter systems are cut to length, which means there are no joints along the length of the gutter material that can leak. We offer two shapes of seamless gutters: the half round gutter and the "K" shaped gutter. Half round gutters offer the advantage of easy cleaning. The interior shape of the more common K shaped gutter has a different kind of surface area that can allow for debris to build up in its corners, but both types are excellent choices. Both types of gutters come in a variety of colors too, so you can match your home's trim or siding color.
Copper rain gutters provide the advantage of never rusting or corroding, and advances in technology have allowed copper gutters to be made without seams. That means that the coveted style of copper gutter systems can now offer the benefits of modern, seamless gutters. Copper gutters do tend to be slightly more expensive than other metal gutter systems, but a copper gutter system installed by Minnesota Leafless Gutters is a strong investment with the potential to last a half century or more.
Steel gutters offer similar benefits as copper gutters, though steel used in gutter systems will rust and/or corrode faster than copper. Still, when anodized and properly maintained, steel gutters provide great strength and durability. By comparison, the main selling point for aluminum gutters is the comparatively lower cost. Aluminum gutters can be composed of recycled materials, which reduces their cost. Aluminum gutters are prone to expansion when exposed to the elements and are more easily dented than other metal gutters, but they do provide a very good option for homeowners.
Seamless Gutter Experts In Minnesota
We also offer gutter cover systems, which optimize the value of your gutter system by preventing the buildup of debris, thereby allowing water to move away from your roof more effectively and efficiently. All of our gutter systems can be customized to match your home's exterior decor too. Minnesota Leafless Gutters offers many different options to meet your needs and protect your home. Call us at (612) 221-0362 for more information.