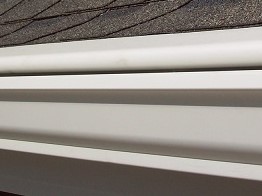 "An ounce of prevention is worth a pound of cure" is a classic phrase that rings true in many aspects of our lives. Home maintenance is one of these areas. Clogged or damaged gutters can lead to hundreds or even thousands of dollars in repair costs if left unchecked! Basement flooding, roof leaks, interior damage, and mold formation can all occur if water doesn't properly flow off your roof, into your gutters, down the downspouts, and away from your home.
How Often Do Gutters Need To Be Cleaned
While most gutters need minimal maintenance, it's always important to keep an eye out for indicators of gutter damage or blockage. We recommend homeowners inspect and clean their gutters twice annually: once in the fall when the leaves have fallen and once again in spring in anticipation of increased precipitation. Depending on the size and layout of your home, cleaning gutters can be accomplished in under an hour. While many people are comfortable carrying out this task on their own, safety should always be a top priority. If you feel comfortable climbing up a ladder, the overall process is straightforward. Most blockages occur when leaves, twigs, loose bits of shingle asphalt, or organic sludge accumulate and block water flow to the downspouts. These obstructions can be easily removed by running a spatula or garden trowel along the full length of the gutter. Tools like a plumber's snake or a dryer exhaust vent cleaning tool can pull out most stubborn clogs in the downspouts. Lastly, run a hose or pressure washer and spray any remaining residue down to the downspouts. You should be able to see water flowing freely out the end of the downspout below.
Gutter Guards
If your home is surrounded by foliage and your gutters get clogged frequently, gutter guards will help cut down on the amount of time you spend on a ladder pulling out those pesky leaves! Gutter guards are designed to keep leaves and debris out while avoiding overflow issues.
A lack of direct sunlight can lead to unsightly mildew formation on both the interior and exterior of your gutters. There is a wide selection of specialty gutter cleaning products available that will help remove mold or mildew from your gutter's exterior, but a simple diluted bleach solution, a scrub brush, and a little elbow grease will get the job done in a pinch.
Do-it-yourself repairs can be dangerous when it involves ladders and a slippery roof. A professional can easily repair and clean clogged gutters. The cost of hiring a company to handle clogs and gutter repair far outweighs the consequences of having a leaky roof or failed gutter systems!
Maintaining the gutter system for your MN home is a top priority, and our team at Minnesota Leafless Gutters has many services offered. Give us a call today at (612) 221-0362 or email mnleaflessgutters@gmail.com.