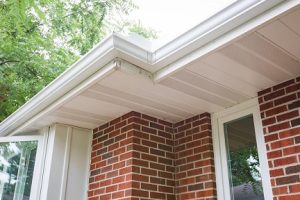 With all of the beauty and warmth of spring comes chances for storms, wind and rain. Spring showers are what helps the grass, plants, flowers and trees grow and flourish. But, if your gutter system is not working properly, these spring showers can also cause some serious headaches. Water that is not pushed down your gutter system, out and away from your foundation can pool in places that can actually cause damage to the exterior of your home, your roof, or your foundation. If your gutters are clogged, cracked or just simply can no longer do their job, it may be time to consider a new gutter system for your home. This investment will prevent costly water damage to your home.
Gutter System Installation Services In Minnesota
Minnesota Leafless Gutters specializes in new gutter system installation in the Minneapolis and St. Paul area. Our goal is to help you solve any water problems that you have and to help you prevent them from occurring in the future. A seamless gutter system is an ideal option for homeowners in our area because it eliminates the need for regular maintenance and cleaning. These gutter systems will not allow leaves and debris in – only water – so you do not have to be concerned with clogged gutters ever again!
Our staff can help you choose the perfect seamless gutter system for your property and your budget. We offer half-round seamless gutters, k-style seamless gutters in aluminum, steel, and copper in over 100 colors. These gutter systems are made to withstand the temperature changes over the course of the year. Because of their durability and strength, you can expect your new seamless gutter system to last for many years.
Benefits Of Seamless Gutters
The staff at Minnesota Leafless Gutters works all year round to help our customers find the best possible gutter system. We are happy to answer your questions, provide you with our recommendations if you are interested and will offer the best customer service in the business. If you are concerned about your current gutter system and are considering replacing your standard gutters, reach out to our team for assistance. We will complete a thorough and free assessment of your current gutter system, a wide range of choices for your new gutters, affordable pricing and careful installation. We will complete our work on time and always leave your home and yard clean and in good shape.
For more information or to schedule a free consultation, call Minnesota Leafless Gutters at 612-221-0362.