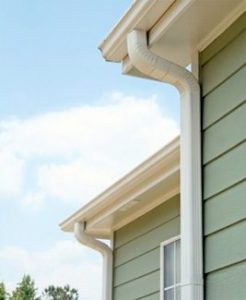 Building a new home can be expensive with numerous unexpected expenses that pop up with the lengthy construction process. Some new homeowners might be tempted to save money by skipping gutters. This decision could end up costing big money over the time that you own the home. If you have asked yourself if the house I just had built needs gutters, pay attention to experts on the importance of having rain gutters professionally installed. After taking a closer look at the many benefits provided by seamless gutter systems in particular, Minnesota Leafless Gutters would love to provide you with a Free Estimate on our very affordable, top quality options in residential gutters and gutter cover systems.
Minnesota Leafless Gutters is the # 1 seamless and leafless gutter installation company in the east metro! Our installer custom makes them on the spot, we can match any color and you will receive a lifetime  transferable guarantee.
Importance of Residential Rain Gutters
Nobody can stop the rain. Rainwater has to go somewhere and preferably where it won't cause damage to the home or property. The very important job that residential rain gutters provide is to protect the home by directing water away from the foundation, driveway, landscaping and other elements that surround the household. This year has seen a lot of precipitation that has caused flooding and other property damage. Homes that do not have a stable gutter system installed are more likely to end up with costly damages that are easy to avoid by investing in a high quality, seamless gutter system from Minnesota Leafless Gutters.
Damages Caused by Missing or Faulty Gutters
If you are wondering if the cost of having gutters installed on your new house is really worth it, here is a list of some of the many damages that can result from having faulty, damaged or missing gutters:
• Water in basement
• Mold and moisture issues
• Soil erosion
• Damaged landscaping
• Stains on siding, brick, stucco and masonry
• Settling or cracks to driveway, patio, walkway
• Foundation problems
• Ice dams forming
• Structural interior damages due to house settling
• Water damage to awnings, overhangs, windows, garage doors and exterior doors
Benefits of Installing Quality Gutter System
Professional installation of a high quality, seamless gutter system provides many benefits for new and existing homes.
• Protects the home from water damage
• Provides aesthetically appealing detail
• Available in numerous colors, styles and materials
• Copper, steel, aluminum gutter system choices
• Custom fabricated on site
• Continuous protection without leaky seams
• No bending or creasing
• Long lasting results
• Custom fit and designed for each home
• Mitigates water, moisture and mold issues
• Stands up to ice, wind and heavy rainfall
• Adds beauty and value to the home
• Convenient, heavy duty gutter covers installed upon request
Seamless Gutter System Installer
Minnesota Leafless Gutters utilizes advanced gutter fabrication technology, top quality materials, outstanding customer service and over 17 years of gutter installation experience on every project. Enjoy the numerous benefits of having long lasting gutters installed on a newly built house and as an added bonus, we will also provide a Lifetime Transferrable Warranty for materials and labor. Ask about our affordable, custom fabricated seamless gutters and downspouts made of copper, aluminum or steel.
For a Free Estimate on high quality seamless gutter system installation, call Minnesota Leafless Gutters at: 612-221-0362