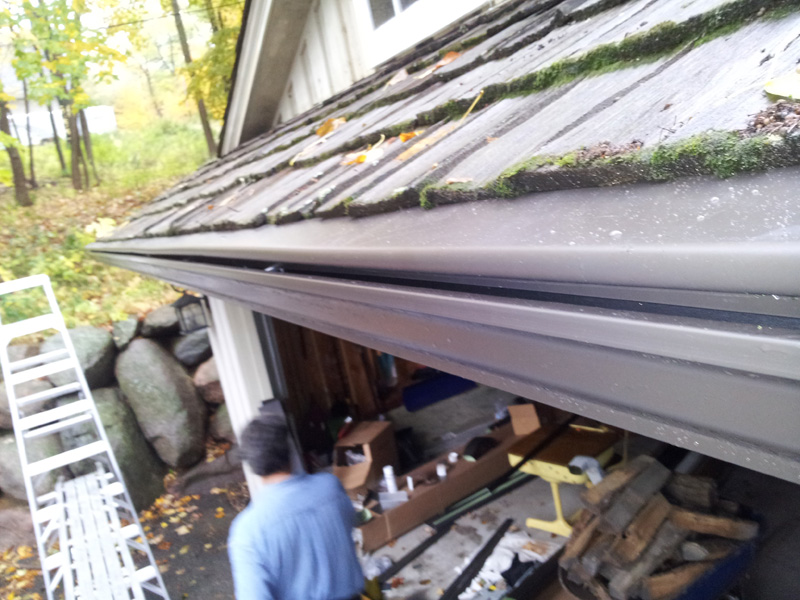 Whether we like it or not, fall is quickly approaching, and that means that in addition to the colder weather and the darkness that seems to creep in earlier and earlier every night, we'll also be entering another season of falling leaves. For many homeowners, fall simply means more home maintenance. You'll start raking leaves, covering your windows before the first burst of cold winter weather, and cleaning out your gutters to make sure the fallen leaves, pine needles, seed pods, and debris are removed before they can be frozen to your gutters. What if you could skip the gutter cleaning? Would you? With Minnesota Leafless Gutters' seamless gutters and gutter guards, you can take gutter cleaning off of your housekeeping checklist. Our Twin Cities area Minnesota gutter installation company will leave you wondering why you've spent so many years cleaning your gutters once you've seen our leafless gutter secret: gutter guards!
Save Time with Gutter Guards, Your Gutter Cleaning Alternative
Every time you clean your gutters, do you find yourself wondering why you do it? Do you ever think about just not doing it? If you're someone who doesn't look forward to climbing onto your roof or breaking out the ladder, you might also be someone who avoids doing either of these things as much as possible, which probably means that your gutters aren't getting cleaned as often as they should be. Fortunately for you, we have a gutter cleaning alternative that will help you maintain leafless gutters at your home without needing to climb a ladder again. With our gutter guards, you can look forward to having leaf- and debris-free gutters year-round, something most homeowners dream about. Our gutter guards work to keep everything but water and easily movable debris from entering your gutters, acting as a gutter cover with a very small sliver of space between your roof and your gutters that allows for easy water flow. These gutter guards protect your gutters from larger debris like leaves that are the main contributors to clogged gutters and gutter damage.
Expert Seamless Gutters Installation Company MN
If you're in the St. Paul and Minneapolis, Minnesota, area and you're looking for a way to keep your gutters clean without having to climb onto your roof or pay a gutter cleaning company, invest in Minnesota Leafless Gutters' gutter guards and leafless gutter systems. If your gutters have been clogged one too many times, if they're springing leaks and looking worse for wear, it's time to replace them with seamless gutters. With seamless gutters, your gutters won't be welded together every few feet, creating sections where debris gets trapped easily. Instead, you'll have a fluid gutter system that allows for easy water flow and draining of small debris. When you add our gutter guards to the mix, you'll have a seamless gutter system that keeps the leaves and debris out, ensuring that your gutters really are leafless. For a free estimate for seamless gutters or gutter guard installation, contact us at 612-221-0362 or mnleaflessgutters@gmail.com, and leave your ladder-climbing days behind.