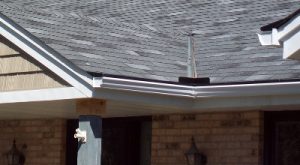 Are you looking to replace your existing gutter system with a new system built to last? Is your brand new build in need of new gutters? In either case, you need to find the right gutter professionals in St. Paul, MN to partner with. Thanks to our experience, focus on our clients and affordable pricing, there's no better team for the job then our crew at Minnesota Leafless Gutters. For those looking for a new gutter system on a budget, our durable aluminum gutters are just the type that you need.
Affordably Priced Aluminum Gutters
Our dedicated team of gutter professionals understand that a new gutter system can be pricey, and you may be dealing with other home improvement projects that are eating up your money at the same time. If you are in the market for affordably priced gutters that don't take away from the durability of the system, our aluminum gutters are the perfect option for you. Aluminum has become a popular gutter material because it is very affordable. The affordability comes from the fact that these aluminum gutters are made from post-consumer and recycled materials. Combine the affordability with our customer focused staff and we'll create an aluminum gutter system that fits seamlessly to your home.
Other Perks of Aluminum Gutters
In addition to the cost effectiveness of our aluminum gutters, there are other perks that an aluminum gutter system brings to your property. Aluminum gutters resist corrosion and can often last for fifteen or more years. To top it off, our staff offers aluminum gutter systems in a wide range of finishes and colors.
Free Aluminum Gutter Estimate
Interested in learning more about a new aluminum gutter system for your St. Paul, MN property? Well, we make it easy for you by offering a free aluminum gutter estimate. With this estimate, you'll receive a detailed breakdown of the estimated costs around your aluminum gutter system. This is a no hassle, no obligation estimate, so if you decide that now is not the right time to commit to this home improvement project, that is totally ok. We're confident that you'll find our prices to be extremely competitive and affordable.
If you are looking to purchase a gutter system that will last on a budget, an aluminum gutter system is a great option. To request an estimate on our durable aluminum gutters, reach out to Minnesota Leafless Gutters. Serving the St. Paul, MN area, give us a call today at (612) 221-0362 or email mnleaflessgutters@gmail.com.