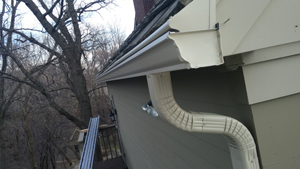 When a rainstorm comes through the St. Paul, MN area, have you noticed your gutters failing to work well? While this may not be the funniest home improvement project to take on, it's a very important one. Your gutter system keeps your home safe from water, so the longer the system fails, the worse the damage to your home and foundation can be. The good news is that our team at Minnesota Leafless Gutters offers durable gutters at an affordable price to all our customers in St Paul.
Gutter Options For Every Budget
If you are looking for a gutter system that provides the bare minimum, we've got you covered. If you are more interested in protecting your home from water damage for the long haul, and cost isn't much of an issue, we've got plenty of gutter systems for that scenario as well. Truthfully, our staff has gutter options for every budget. What you will find is that no matter the quality you decide to go with, the cost of your new gutter system will be offered at an affordable price.
Unique Customer Experience
There are plenty of gutter companies around St. Paul, MN, but none that offer the unique customer experience that our dedicated gutter experts provide each of our clients. Fair pricing and affordability are a big part of the experience, but the fun doesn't end there. We give our clients flexibility and options when it comes to choosing the range of finishes and color options for their gutters. Additionally, you can count on our experienced gutter installation crew to complete your project on time, and we will never leave a mess. Arguably the most important part of the customer experience is the free gutter inspection and consultation that we provide. During this complimentary inspection, we'll thoroughly evaluate your existing gutters and provide you with truthful recommendations around our findings. We do not pressure you into any decisions as this is a no obligation inspection.
Seamless Gutter Fit
Not only will you receive durable gutters at an affordable price by placing your trust in our staff at Minnesota Leafless Gutters, but your new gutter system comes with a seamless fit as well. We will customize your new gutter system to perfectly fit your home thanks to our industrial metal fabrication equipment that we bring on site. Whether you choose aluminum, copper or steel gutters, we'll make sure that your new gutter system fits seamlessly to your home.
If your existing gutters have seen better days and you are looking for a gutter company in St. Paul, MN that offers durable gutters at an affordable price, then Minnesota Leafless Gutters is just the partner for you. To request a free gutter inspection, give us a call today at (612) 221-0362 or email mnleaflessgutters@gmail.com.