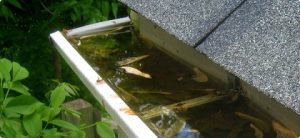 Cooler nights are upon us, which means that fall will be here before we know it. By the end of September, cooler nights and cooler days will begin to turn the leaves to their brilliant golds, oranges, and reds that we all adore. But, as most Minnesota homeowners know, this signals the falling of millions of leaves onto our roofs, our yards, and our gutters! Those who have gutters without leaf guards know all too well that many hours of cleaning leaves and debris from within the gutters will be forthcoming! To avoid that, it's not too late to have your gutters inspected, install gutter covers to help keep leaves and debris out of your existing gutters, or to consider the installation of more advanced, leafless gutter systems from the experts at Minnesota Leafless Gutters.
Free Gutter Inspection
The gutter installation experts at Minnesota Leafless Gutters are committed to your satisfaction by offering you a free gutter inspection and report of any findings. The expert team members will come to your home to inspect your gutter system and offer any recommendations for repair work or replacement. Having this done ahead of time will allow you the opportunity to consider the completion of any work prior to the onslaught of fall season leaves and the onset of snow and ice during the winter months.
Gutter Cover Installation
Homeowners that have traditional gutters that are open to the elements at the top know the distinct disadvantage to this type of gutter… leaf and debris buildup. This leads to getting out the extension ladder at least once a year, though typically more often to clean the gutters out. Left undone, leaves and debris rot which in turn causes the gutter to rust or get weighed down and pull away from the eaves of your roofline. The installation of gutter covers will help to solve this problem, assuming that your existing gutters are in good shape.
New Gutter Design And Installation
The team of experts at Minnesota Leafless Gutters have just the right type of gutter to fit your style, and more importantly, your budget. With a wealth of styles to choose from ranging from various shapes, various materials, and metals, to well over one hundred colors to choose from, you are bound to find something that fits your house's style and is affordable, all at the same time.
To get started in the Tri City metro area, call the Minnesota Leafless Gutter experts today at (612) 221-0362 to schedule a free gutter inspection. Let their team of trained professionals listen to your needs and guide you through the process to ensure your home and gutter system are ready to take on the fall leaves. Call today!