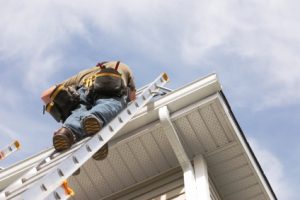 If you have recently found that your gutter and fascia has become damaged over time, this is not something to ignore. There are certain home improvement projects that you can postpone, but gutter and fascia replacement is not one of them. Choosing the right gutter and fascia replacement contractor for your project is the next important step. Luckily, our team at Minnesota Leafless Gutters makes the decision easy. Thanks to our high quality materials, detailed installation and affordable prices, you are provided the total package when choosing our team as your preferred contractor.
Importance of Functioning Gutters and Fascia
When it comes to protecting your home from water damage, functioning fascia and gutters are critical. Without these key pieces of your home, the structure of your residence as well as its foundation could experience water damage. Rather than risking this type of damage that comes with a heavy price tag, make it a point to replace your gutters and fascia in a timely manner. This investment now will help protect your home from water damage for decades to come.
Seamless Fit
With every gutter and fascia replacement that we take on, ensuring a seamless fit is our priority. What good are new gutters and fascia if they're poorly installed? At Minnesota Leafless Gutters, we don't cut corners when it comes to the installation process. Instead, we focus on the fine detail with every project that we take on. Thanks to our installation experience, our customers are always thrilled and satisfied with the results of their gutter and fascia replacement project.
Free Gutter Replacement Estimate
What often intimidates individuals away from following through with their home improvement needs is fear that they can't afford the repairs. At Minnesota Leafless Gutters, we aim to take this stressor off of our potential clients. By offering a free gutter and fascia replacement estimate, you'll be able to know the expected cost of your project before any of the work begins. If after the estimate you find that gutter and fascia replacement isn't a project that you can take on financially at this time, there will be no hassle from our crew. We are confident, that our replacement prices are the best in the industry.
So, if you are in search of a reputable gutter and fascia replacement contractor near you, look no further than our dedicated team at Minnesota Leafless Gutters. To request a free estimate today, give us a call at (612) 221-0362.