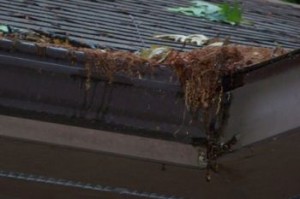 Replacing your roof is a big project that not only takes time, but also causes a distraction. There is no simple way around replacing a roof, it is just a big project. If you are currently going through the roof installation process, why not take the extra step to replace your gutters at the same time. Rather than dealing with these upgrades separately, kill two birds with one stone while the yard is already a mess. Protecting your home should be your number one priority, and there is no better way to provide that added protection than to upgrade your gutters as well. If you live in Woodbury, MN, and are in the middle of replacing your roof, give Minnesota Leafless Gutters a call to provide you custom gutters that will fit to your new roof like a glove!
Reasons to Install Gutters and Roof At Same Time
Limit Disturbance

– Your yard is already a mess with a roof installation, and there is plenty of noise with all of the workers. Why not replace your gutters at the same time so that you do not create a new distraction later on.

Custom Fit

– Our dedicated gutter installation team can install your new gutter system to the brand new roof that you invested in so that you have a perfect fit!

Protection

– What is the point of investing in a new roof if you still have worn down gutters that are not performing properly. Take the extra step so that your home is truly protected.
Lifetime Transferable Warranty
Our experienced staff makes it a priority to cause as little commotion as possible when installing your new gutters. With over 17 years of experience, we have seen it all when it comes to gutter installation. Customer service is very important to us, which is why our services come with a lifetime transferable warranty on our labor and materials. By partnering with our team, you will receive direct service from our owner, Tim. He will work with you every step of the way to ensure that you are satisfied with the gutter installation process from beginning to end.
So, while your yard is a mess from the roof installation, why not invest in replacing your out-dated gutters at the same time. Take advantage today of the full service gutter installation services that Minnesota Leafless Gutters has to offer. If you live in Woodbury, MN give us a call at (612) 221-0362 to set up a free estimate.