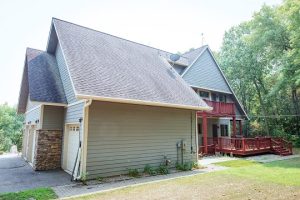 Very often when you discover a problem with how water flows around your home, the issue has something to do with your gutters. However, gutter problems can often cause roof problems as well. If you are concerned about whether your gutter system is functioning properly, the team at Minnesota Leafless Gutters can help determine the cause of the problem and make a recommendation for gutter repair or replacement, depending on what is needed. In addition, our staff are licensed and insured roofing contractors as well, so we can also take a look at your roof and make sure that we address any potential problems or vulnerabilities there. Offering both of these services has helped many of our customers save time and money.
Functional Gutters Protect Your Home's Roof And Exterior
When precipitation falls from the sky (in the form of rain, sleet or snow), it first hits your roof and then is carried down by your gutters. When your standard gutter system is clogged with leaves, dirt and other debris, that water cannot flow through easily and can pool on your roof. This can cause problems for your roof in the form of a leak or the formation of an ice dam in the winter). Ultimately, roof damage can be a very expensive problem to have on your hands, especially if a leak comes all the way through into your home. Because our staff has expertise in both roofing and gutter work, we can take a look at your entire exterior water flow and ensure that your home has a system that will work to move water away from your roof and your foundation so that you do not end up with costly water damage.
Benefits Of Seamless Gutters In St Paul Area
If it turns out that your standard gutters are no longer able to move the water away from your roof, we can suggest a new seamless gutter system that will not allow all of the leaves and debris inside–you will not have to clean this new gutter system and you can sit back and relax knowing that your home's roof and exterior are protected. We can match this gutter system to your home so that it enhances the overall look of your home. A seamless gutter system is a great investment in your home and will save you time and money over many years. To speak with one of our gutter specialists and/or roofing contractors, give us a call today at 612-221-0362 and we can schedule a time for a free estimate.