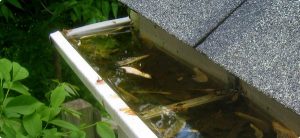 Minnesota Leafless Gutters does more than install gutters that resist clogging and add a nice aesthetic element to the outside of your home. We also provide thorough gutter cleaning, which is especially important if you do not already have a leafless gutter system. We also complete gutter inspection and cleaning and can add gutter guards to your current gutter system in Hennepin County, MN.
Why Is Gutter Cleaning Important?
In Minnesota, it is extremely important to take good care of your gutters and have them cleaned regularly. Standard gutter systems do not prevent leaves, pine needles, sticks, and other debris from building up and clogging them. Clogged gutters are problems waiting to happen and can cause water damage inside your home or even damage to your foundation.
We understand that life is busy and it is easy for a lot of time to go by before you even think about cleaning your gutters. Minnesota Leafless Gutters provides our gutter inspection and cleaning service and gutter guard installation is important preventive maintenance so that you can avoid having to contact us to fix a problem that clogged gutters have caused. In other words, we can help you to be proactive about your gutters so that you do not have to worry about having clogged gutters.
Gutters Move Water Away From Your Home
Your home's gutter system is designed to move water away from your home, ensuring that the water remains outside where it belongs. Even light to moderate rain can cause water to infiltrate into your home if your gutters are sufficiently clogged. When winter comes, snow and ice follow and additional problems can occur if your gutters are not clear.
When snow accumulates on your roof, the warmth of your home will cause it to melt. Your gutters allow the melting water to flow down and away from your home's roof line and foundation. Clogged gutters prevent the movement of that water. If the gutters are sufficiently clogged, water can be forced up and under shingles. That process can damage your home's framing system, your roof, and can enter your attic and virtually any other location of the structure.
Hennepin County Gutter Cleaning Company
In more extreme weather conditions, the build-up of snow on your roof melts at the roof surface but can re-freeze. When this occurs, it creates what we call an ice dam. With enough snowfall, the ice dam can grow to the point that it forces its way under the shingles on your roof, doing damage to the overall structure. Ice dams can do great damage to your roof, so it is best to avoid the problem by ensuring that there is no debris build-up in your gutters.
Cleaning your gutters is a simple way to protect your home from the elements. For more information about our gutter inspection services, gutter cleaning and gutter guards, call Minnesota Leafless Gutters at 612-221-0362.