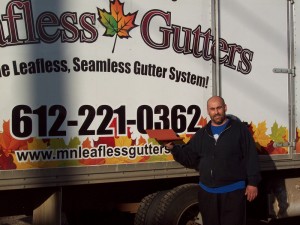 When choosing new gutters for your home, it's important to consider all of your options so that you can make the best decision. When making this decision it is important to consider the aesthetics, your budget, and Minnesota's weather. Minnesota Leafless Gutters installs gutters in Brooklyn Park, Minnesota for your convenience.
Minnesota Leafless Gutters has been serving homeowners in the Saint Paul – Minneapolis Metro and greater Minnesota for over 17 years. We have a large portfolio to showcase our great work, and testimonials from our satisfied and happy customers. Not only do we have an extensive portfolio but we offer a lifetime transferable warranty. All our services include a lifetime transferable warranty for labor and material. Customer satisfaction is our number one priority, meaning we do it right, the first time, every time. We specialize in seamless gutters and are able to install them in two-designs and multiple colors.
Options for gutter installation in Brooklyn Park, Minnesota
Not only are seamless gutters practical and reliable, but they are also aesthetically pleasing. Designer gutters are custom cut-on-site for the exact fit. Also, at Minnesota Leafless Gutters we have more than 115 colors to match your siding, soffit, and fascia perfectly. Furthermore, we offer two main gutter styles, the half-round and K-style Seamless gutters. The half-round are more common in older construction but since the 1960's K-style are more common. Both have advantages and disadvantages. As a result of the shape of the half round gutter, all water drains completely out unlike the k-style. This is beneficial in Minnesota since it helps prevent breeding of mosquitoes. K-style gutters are able to carry larger volumes of water compared to half-round gutters, and are also more durable. One disadvantage of this style is that these gutters are harder to clean, and the corners catch debris.
Types of Materials for Seamless Gutters
Aluminum has become a popular choice because they are low cost gutters. Despite their low costs, aluminum gutters have pros and cons. The Advantages of aluminum gutters are; they come in a variety of finishes and colors, they are relatively low cost, resist corrosion, and can last up to 15 years if not damaged. Disadvantages of aluminum gutters is that they expand twice as much in the cold compared to steel or copper, and they do not hold up as well to storm damage.
Copper Gutters–  Copper does not rust or corrode, if maintained copper cutters can last more than 50 years. This is the best quality metal that can be used for seamless gutters due to the fact that it's the most durable and the longest lasting. Copper is the best choice, but it is the most costly.
Steel Gutters – are available in plain galvanized or enamel finishes and a wide variety of colors. Steel gutters are more prone to rusting than others and therefore should be factory painted. Steel is stronger than aluminum and contracts one-had as much. Steel is a good choice for northern climates, disadvantages of steel is that it rusts easier than other metals, especially if not cleaned or primed professionally.
If you are in new of a long lasting, low maintenance, and seamless gutter system give us a call  today at 612-221-0362 or send an email to mnleaflessgutters@gmail.com.