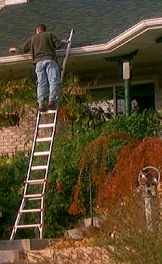 Pretty much everyone hates having to get up on a ladder and clean out their gutters every year. But fortunately, we have an answer for that. Gutter covers from Minnesota Leafless Gutters will help keep the leaves out of your gutters and you off the ladder. Your life gets much easier when you don't have to clean out gutters, and there's the potential to save money because you eliminate the risk of injury. With the new technology of gutter guards, it's really a no-brainer to have them installed on your existing gutters, or as part of your new seamless gutter system. We highly recommend gutter covers for your gutter system, and many people in St. Paul are enthralled with our results. So if you want to ditch the ladder, contact Minnesota Leafless Gutters for new gutter covers today.
Gutter Cover Benefits
When your gutters are covered, there's no need to get up on a ladder to clean them out. Leaves and sticks will fall into uncovered gutters and eventually they will clog up and become useless. And then you need to get up on a ladder or on the roof to clean them out. Don't take the risk of falling; have gutter guards installed on your gutters. Compared to the cost of medical bills that can come from falling off a ladder or roof, gutter guards are very inexpensive. And cleaning out gutters is necessary because if they aren't cleaned out, then they stop working and there is no point to have them. Seed pods will also drop into gutters and if they aren't cleaned out, they will start growing. At Minnesota Leafless Gutters, we have actually found small trees starting to grow from gutters that hadn't been cleaned in years. This why we recommend our superior gutter guards – you won't have trees growing on your room!
Gutter Guards for All Houses
It doesn't matter how big or small your house is in St. Paul; we will expertly install new gutter guards for you so that you never have to get up on your roof again. Whether you are in the Payne-Phalen neighborhood or West 7th, Como Park or Highland Park, we will professionally install our gutter covers for you. And no matter if you are young or getting up there in age, getting up on a ladder is just not worth it any more when there are new technologies available. So if you think that gutter guards are something that you could use for your St. Paul home, contact the experts at Minnesota Leafless Gutters. Call 612-221-0362 for gutter guards today.