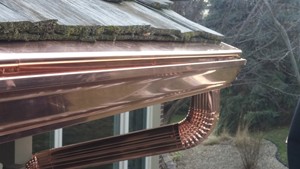 Have you recently gotten your gutters cleaned? Do you already feel like they need to be cleaned out again due to new debris and buildup that has quickly developed since your last gutter cleaning? Well, investing in gutter covers may be the solution that you have been missing. If you are in the St Paul, MN area, our gutter experts at Minnesota Leafless Gutters can install leafless gutter covers so that you don't have to constantly pull out the ladder to clean your gutters throughout the year.
Gutter Specialists You Can Trust
At Minnesota Leafless Gutters, we can help you with all things related to your gutters. Whether you need gutter repairs, replacement or gutter covers, we've got you covered. While serving St Paul, MN and the surrounding area for over 17 years, we have gained valuable experience and have left big smiles on our customers faces after our gutter projects are complete. As a licensed and insured contractor, you can rest assured that your gutter covers will be installed correctly the first time around. To top it off, we offer a lifetime transferrable warranty on all of our labor and materials. We're not like other contractors where you never see the owner on the job. Instead, we make it a point for all of our customers to speak with Tim, our owner, as he oversees the entire project from start to finish. At Minnesota Leafless Gutters, it is not about the next big sale that our staff makes. Instead, it is about providing our customers with high quality customer service and elite gutter performance.
Seamless Gutter Guards St Paul MN
Our gutter covers are able to keep your gutters clear of leaves and debris, while still allowing water to flow normally to the down spouts. These gutters can be installed to your existing gutter system or to the replacement gutters that our staff installs for you as well. The end goal is to keep your gutters clean so that you do not have to pay someone to regularly clean out your gutters or so you don't have to get up on your ladder as often. We take pride in being able to offer our St Paul, MN customers customizable gutter covers. These seamless gutter guards are available in any color to help match the look of your home or business. At Minnesota Leafless Gutters, our gutter covers can be applied to both residential and commercial properties. Additionally, these gutter covers can be applied to a wide range of gutters including:
● Aluminum Gutters
● Copper Gutters
● Steel Gutters
If you are sick of having to constantly clean out leaves and debris from your gutters, our team at Minnesota Leafless Gutters has a solution. If you are in the St Paul, MN area, give us a call today at (612) 221-0362, or email mnleaflessgutters@gmail.com to learn more about our leafless gutter covers.