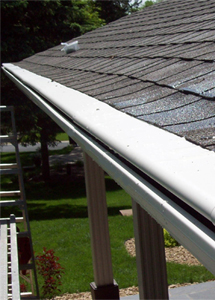 One of the most difficult and hated tasks for many homeowners is cleaning out the gutters. Every time there is rain, snow, wind or other weather event, your gutters fill with water, leaves, dirt, and other debris from your yard. When yard waste gets in your gutters, it prevents them from doing their job – allowing water to flow through them away from the exterior of your home and its foundation. Gutters help prevent water damage to your home and keeping them clean is a huge factor when it comes to their effectiveness. The longer you wait to clean them, the more difficult the job becomes.
If you live in Woodbury, Minnesota Leafless Gutters can help you with this dreaded home cleaning project. We can install gutter guards to cover your gutters and keep leaves and debris out, while letting only water through. That way, you do not have to climb up on the ladder and fish out all the gross stuff that has gotten inside. Your gutter guards will ensure that your gutters stay clear, and you stay off the ladder! We can match your gutter guards to your home so that your home looks its best all year round. Gutter guards are a very economical option for protecting your home from costly water damage.
Prevent Water Damage To Your Woodbury Home With Gutter Guards
The staff at Minnesota Leafless Gutters can offer you many gutter cover options to fit your needs. We complete our work quickly so that you can begin enjoying the benefits before the next storm. Our gutter guards can be installed on your existing gutters or on our seamless gutter system. The bottom line is that we will make it work for your system.
No More Gutter Cleaning!
The last thing that you want to find is that water has damaged your siding, your fascia or especially your home's foundation. Your gutters are your best protection against this potential damage to your home. Repairing water damage is extremely expensive and can have long term effects. Installing gutter guards is an easy way to protect your home and keep you from having to stress about regular gutter maintenance. Gutter guards are virtually maintenance free.
If you would like to learn more about adding a new set of gutter guards to your current gutter system, reach out to our team at Minnesota Leafless Gutters at 612-221-0361. We serve the Woodbury, MN and surrounding area and would be happy to work with you!