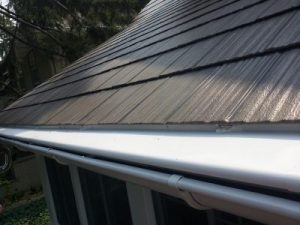 At Minnesota Leafless Gutters, we have a few priorities when we're installing gutters and helping homeowners choose the right gutter systems for them. We want to make sure each of our customers gets the best gutter system for their home and budget, which means we take into account gutter longevity, initial cost, appearance, maintenance needs, and expected wear and tear in Minnesota winters. One of the ways we help ensure each of our customers gets the longest-lasting gutters possible is by recommending gutter guards, a great technology that allows homeowners to keep their gutters in ship shape year-round with very little effort. If you're looking for a gutter guard company in Woodbury, MN to help you decide whether gutter guards are right for you, you've come to the right place.
What are Gutter Guards?
Gutter guards are just what they say; they're intended to guard your gutters, from everything like snow and hail to leaves and twigs. What's the number one problem you face when maintaining your gutters? Chances are good it's making the time (or finding the motivation) to get up and clean your gutters out. However unpleasant, this is a necessary part of owning a home. With gutter guards, you'll have much less to worry about, though. Gutter guards are simply intended to cover your gutters to keep debris out and allow water to flow more freely through the gutter system without being interrupted by clumps of debris.
Longer-Lasting Gutters with Gutter Guards
When your gutters are working properly, they're able to release water freely without getting water pooled. When water pools, it can create rust, leaks, or breakage. Gutter guards help prevent gutter damage by helping keep everything but water out of your gutters. That means the clearer your gutters stay, the less damage can be done, and the longer they'll last.
Gutter Guards Mean Low-Maintenance Gutters
If gutter guards can keep leaves, seed pods, tree twigs, snow, hail, moss, and any other debris from entering your gutter system, it means water flows more freely, and there's less material trapped in your gutters. When water is able to keep flowing, you know that your gutters are working properly and getting flushed out when it rains or when snow begins to melt from your roof. Ultimately, that means you have to climb up to clean your gutters much less than you normally would!
Protect Your Gutters with Gutter Guards
If you want your gutters to last as long as possible and stay in as good a shape as possible, consider the benefits of gutter guards. At Minnesota Leafless Gutters, our Woodbury, Minnesota gutter guard experts can help you choose gutter guards to match your current gutters or include gutter guards on a new set of gutters to help your investment last. Call us today at (612) 221-0362, or email mnleaflessgutters@gmail.com to get a free gutter guard quote and find out more about how gutter guards can save you money, time, and frustration now and in the long run!