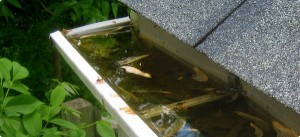 Every year around this time, homeowners in Minneapolis, MN get to walk around their property and make a list of all the things that need to be done as a result of the harsh winter months. Planting flowers, powerwashing the house, assessing the roof, and cleaning the gutters are typical projects during the spring months. Of all the projects, the least appealing to most people seems to be cleaning those gutters! What if we told you that our gutter installation professionals have found a way to prevent clogs and minimize cleaning? Serving the entire Minneapolis, MN area, Minnesota Leafless Gutters offers gutter protection all throughout the year so that your gutters stay clear of leaves and debris!
The Hassle Of Cleaning Gutters:
Step One: Drag your feet outside and pout.
Step Two: Drag the ladder to the side of your home and pout.
Step Three: Pray that you don't fall off of the ladder while reaching into your nasty gutters and digging out whatever nasty debris may be in there. Pout.
Step Four: Climb down the ladder and move it 3 feet to the left and begin step three again. You may end up pouting twice at this point.
Step Five: Repeat steps three and four until you've gone around the entire perimeter of your home.
Step Six: Look up at your completed work and watch a bird build a nest in your freshly cleaned gutters.
Step Seven: Go ahead and pout. You may end up crying a little too.
Properly cleaning gutters is no joke. With all of the harsh weather in Minneapolis, homeowners without gutter protection should be cleaning every autumn and spring. No one has the time to do that! Minnesota Leafless Gutters can offer a great solution. Gutter covers, or gutter guards, can effectively prevent clogs by keeping gutters clear and allowing water to run smoothly down the spout. There are various types of gutter guards that provide tremendous gutter protection. Gutter toppers, screens, and filters are all able to minimize cleaning and keep you off of that dreaded ladder!
Our Gutter Installation Professionals
Our gutter installation professionals can install gutter guards to your new system or to any existing gutters. We customize and install every gutter guard system to make your home or business look great and keep it well protected. We have a variety of colors that will be sure to match your home perfectly!
So if you live in Minneapolis, MN, stop pulling out that ladder every year and dragging yourself through this arduous task! Call Minnesota Leafless Gutters today at 612-221-0362 to invest in our gutter guards.